Mikan Island is the location of first of the Orange Island gyms. Its leader, Cissy, is an expert on Water-types, and challenges opponents to shoot targets and run water races instead of battling. Her Pokémon are Seadra and Blastoise. When defeated, she gives a Coral-eye Badge to her worthy opponents.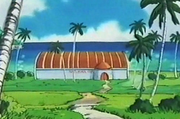 As one of the
Orange Islands
, this island is home to Cissy (sometimes spelled Sissy), the Mikan Island
Gym Leader
.
Gym
Main article: Mikan Gym
Mikan Gym Leader

Coral-Eye Badge
No MT

Cissy
Blastoise
Aquatic Race

Seadra
Shooting Competition

Community content is available under
CC-BY-SA
unless otherwise noted.