Dead Cells Final DLC - The Loop
Play Sound
Masquerain (Japanese: アメモース Amemoosu) is a Bug/Flying-Type Pokémon introduced in Generation III.
Biology
Physiology
Masquerain is a light-blue Pokémon that has no legs. Instead it has two pairs of rombus-shaped wings on its body. Its head has the shape of a teardrop. Its face is pink, it has big black eyes and small eyebrows. On each side of its head, there is an antenna, which is meant to look like an angry eye. The antennae are white with pink along the lower rim. White lines along the rim resemble eyelashes, while a large, dark pink dot in the middle represents the pupil or iris.
Characteristics
Due to its sensitivity, Masquerain is a weak Pokémon, but it has two antennae on its head to scare its enemies away.
Behavior
Masquerain is a really sensitive Pokémon and it has difficulty flying in the rain, because its wings and its antennae get wet. So, when it rains it usually stays under big trees to protect itself.
Evolution
Masquerain is the evolved form of Surskit as of level 22, and does not evolve into anything else.
Game info
Game locations
Pokédex entries
Stats
Masquerain's Stats
HP
Attack
Defense
Sp. Atk
Sp. Def
Speed
Total

454
Masquerain's Stats
HP
Attack
Defense
Sp. Atk
Sp. Def
Speed
Total

414
Learnset
Leveling
TM/HM
Breeding
To see the Egg Moves that Masquerain can learn, refer to Surskit.
Tutoring
Sprites
Appearances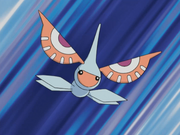 Anime
Supporting
Minor
Trivia
Masquerain is one of the seven missing Pokémon in the Emerald Version.
Origin
Masquerain appears to be based on different kinds of insects. Its body shape and ability to still walk on water with its wings are based around a water strider (the insect its pre-evolution is based on). Its antennae are similar to the wings of moths, some of which have patterns appearing similar to eyes which are used to scare predators. Its antennae also resemble a masquerade. Its head also resembles a raindrop.
Etymology
Masquerain comes from masquerade (a type of mask) and rain.
Its Japanese name, Amemoth, is a combination of ame (雨, the Japanese word for rain), and moth.
Gallery
See also