Marill (Japanese: マリル Mariru) is a Water/Fairy-type Pokémon introduced in Generation II. Prior to Generation VI, it was a pure Water Pokémon.
Biology
Physiology
Marill is a small blue mouse-like Pokémon. It has a round body, round ears and small, stubby arms. On the top of its tail is a small blue ball.
Evolution
Marill evolves from Azurill via Happiness and evolves to Azumarill at level 18.
Game info
Game locations
Locations
Version(s)
Area(s)
Rarity
Red and Blue
Glitch City (Pikablu)
Common
Yellow
Glitch City (Pikablu)
Common
Gold and Silver
Mt. Mortar
Rare
Crystal
Mt. Mortar, Route 42 (night)
Uncommon
Ruby and Sapphire
Routes 102, 111, 114, 117, 120, Petalburg City (Surf)
Common
Emerald
Routes 102, 111, 114, 117, 120, Petalburg City, Safari Zone (Surf)
Common
FireRed and LeafGreen
Four Island, Icefall Cave, Ruin Valley (

LeafGreen only

)
Common
Diamond and Pearl
Great Marsh, Trophy Garden
Uncommon
Platinum
Route 212
Common
HeartGold and SoulSilver
Mt. Mortar, Safari Zone
Swarm, Rare
Black and White
Evolve Azurill (White only)
None
X and Y
Route 3
Rare (Surf)
Side game locations
Pokédex entries
Stats
Base Stats
HP
Attack
Defense
Sp. Atk
Sp. Def
Speed
Total

250
Learnset
Leveling
TM/HM
Breeding
To see the Egg Moves that Marill can learn, refer to Azurill.
Tutoring
Sprites
Appearances
Anime
Main article: Tracey's Marill
Trivia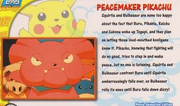 Marill was originally believed to be named Pikablu, it was even referred to as this in the Topps trading cards for the First movie. Other promotion for the first movie misspells its name as Marrill.
In its earlier design, Marill was originally supposed to be colored purple.
In Super Smash Bros., Marill is one of the Pokémon that can be freed from Poké Balls. During this time, it uses the move Tackle.
Gallery
See also
Community content is available under
CC-BY-SA
unless otherwise noted.