Raise a Floppa - The Loop
Play Sound
Mareanie (ヒドイデ, Hidoide) is a Poison/Water-type Pokémon introduced in Generation VII.
Biology
Physiology
Mareanie is a blue and purple anemone like Pokémon with some feminine touches to its appearance, despite the fact that it can be male. It has sharp teeth and green eyes. Its shiny version is reddish pink and orange.
Behavior
Mareanie is usually found moving along the ocean floor near coastal areas. The spike on top of its head contains a deadly toxin that is injected into prey. Mareanie is also able to finish off its weakened victim with all ten of its tentacles.
Although most Mareanie and Toxapex prey on Corsola in Alola, the Mareanie from Galar are stated to have not yet tasted the branches of Corsola, possibly with Corsola being a Ghost type Pokémon in Galar due to being wiped out by sudden changes in ocean temperature.
Natural abilities
Evolution
Mareanie evolves into Toxapex at level 38.
Game info
Locations
Pokédex entries
Sun

It plunges the poison spike on its head into its prey. When the prey has weakened, Mareanie deals the finishing blow with its 10 tentacles.

Moon

It's found crawling on beaches and seafloors. The coral that grows on Corsola's head is as good as a five-star banquet to this Pokémon.

Ultra Sun

They eat Corsola branches, so Mareanie are hated by craftsmen who work with Corsola branches that have naturally fallen off.

Ultra Moon

Aside from its head, its body parts regenerate quickly if they're cut off. After a good night's sleep, Mareanie is back to normal.

Sword

The first symptom of its sting is numbness. The next is an itching sensation so intense that it's impossible to resist the urge to claw at your skin.

Shield

Unlike their Alolan counterparts, the Mareanie of the Galar region have not yet figured out that the branches of Corsola are delicious.
Stats
Mareanie's Stats
HP
Attack
Defense
Sp. Atk
Sp. Def
Speed
Total

307
Learnset
Leveling
TM
Breeding
Tutoring
Sprites
Appearances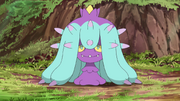 Trivia
Sometimes when a wild Corsola calls for help in an SOS battle a Mareanie appears instead. When this happens, the Mareanie attacks Corsola first before targeting the player's Pokémon.
Origin
Mareanie may be based on a sea urchin mixed with a Crown-of-Thorns starfish. Its predation of Corsola may be based on how Crown-of-Thorns starfish destroy coral reefs by feasting on the growing polyps.
Etymology
Mareanie comes from marine, meanie, and possibly echinoderm. Parts of its name may also be taken from sea anemone.
Names in other languages
English: Mareanie
Japanese: ヒドイデ Hidoide (mixture of 酷い hidoi (cruel) and 海星 hitode (sea star)).
Korean: 시마사리 Simasari (mixture of  심하다 simhada (severe) and  불가사리 bulgasari (sea star)).
French: Vorastérie (mixture of vorace (voracious) and astérie (sea star)).
German: Garstella (mixture of garstig (nasty) and Stella Marina (Latin for sea star)).
Gallery
.