Mantyke (Japanese: タマンタ Tamanta) is a Water/Flying-Type Baby Pokémon introduced in Generation IV.
Biology
Physiology
Mantyke resembles a manta ray. It has a round body with two flat fins. Its back is dark blue with a light blue underside. On its back are two red dots and a light curve formation, resembling a smiling face. These markings slightly differ in each region. It has two long, curving, dark blue antennae on top of its head and black eyes with two eyelash-like markings underneath. It has two black marks on its body, each located underneath the yes.
Behavior
Mantyke is a friendly Pokémon that captures the subtle flows of seawater using its two antennae. It sometimes approaches boats at sea or gets close the ocean surface while swimming with schools of Remoraid.
Evolution
Mantyke evolves into Mantine when leveled up with a Remoraid in the party.
Game Info
Locations
Side Game Locations
Pokédex Entries
Stats
Mantyke's Stats
HP
Attack
Defense
Sp. Atk
Sp. Def
Speed
Total

345
Learnset
Leveling
TM/HM
Breeding
Tutoring
Sprites
Appearances
Anime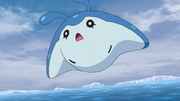 Main article: Goh's Mantyke
Goh caught a Mantyke during his first visit to Sinnoh and used it at the Pokémon Drift Ice Race.
Trivia
Mantyke along with Pancham are the only Pokémon to require a certain type of Pokémon to be in the party in order to evolve (Mantyke needs a Remoraid in the party in order to evolve).
Origin
Mantyke is based on a manta ray.
Etymology
Mantyke comes from manta ray and tyke.
Gallery
See also
Community content is available under
CC-BY-SA
unless otherwise noted.