Jimmy Ray is a character appearing in Pokémon: Black & White.
Biography
Pokémon the Series: Black & White
He is one of the participants who competed in the Battle Club Tournament in Nimbasa Town. He lost to Iris when her Emolga immobilized his Watchog.
Pokémon
On hand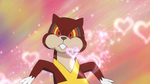 Watchog ♂
Episode appearances
Trivia
Like Nicholai, Jimmy Ray dresses as a Pokémon he has a battle with.