Jangmo-o (ジャラコ Jarako) is a dragon type Pokémon introduced in Generation VII.
Biology
Physiology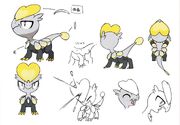 Jangmo-o is a small, scaly quadruped Pokémon. Its upper body is gray in color, while the lower body is black. It has a large yellow heart scale on its forehead. It has six gray scales around its shoulders, with a tinge of yellow in it. It has a gray tail, with a yellow scale on the tip of its tail.
Its eyes are slit and brownish-red in color. It has a small tuft of feathers on its head and chest. It has three yellow claws on each of its feet.
Behavior
They smash their scales on various hard objects to create a jangling noise.
The scales can also provide resistance to attacks.
Natural abilities
Game info
It evolves into Hakamo-o at lvl 35, then into Kommo-o at lvl 45.
Locations
Pokédex entries
Sun

It expresses its feelings by smacking its scales. Metallic sounds echo through the tall mountains where Jangmo-o lives.

Moon

They live in mountains where no trace of humans can be detected. Jangmo-o grow little by little as they battle one another.

Ultra Sun

It smacks the scales on its head against rocks or against the ground to frighten its opponents. It can also contact its friends with these noises.

Ultra Moon

It will never show an enemy its back in battle. Ancient warriors liked Jangmo-o for its valiant disposition and made it one of their own.

Sword

They learn to fight by smashing their head scales together. The dueling strengthens both their skills and their spirits.

Shield

Jangmo-o strikes its scales to communicate with others of its kind. Its scales are actually fur that's become as hard as metal.
Stats
Jangmo-o's Stats
HP
Attack
Defense
Sp. Atk
Sp. Def
Speed
Total

300
Learnset
Leveling
TM
Breeding
Breeding

Generation VII

Move
Father
Power
Accuracy
PP
Type
Category
Counter *
Charmander, Scraggy, Axew, Goomy
—
100%
20

Fighting

Physical

Dragon Breath
Altaria, Bagon, Shelgon, Salamence, Deino, Zweilous, Hydreigon, Goomy, Sliggoo, Goodra, Drampa
60
100%
20

Dragon

Special

Reversal *
Axew
—
100%
15

Fighting

Physical

Bold indicates this Pokémon receives STAB from this move.
Italic indicates an evolved or alternate form of this Pokémon receives STAB from this move.
* indicates this move requires chain breeding.
◊ indicates the father must learn this move in a previous generation.
♈ indicates the father must learn this move via a TM.
Tutoring
Sprites
Appearances
Trivia
Origin
Jangmo-o is based on lizards, dragons, and possibly an ankylosaur, dinosaurs who had armored plates around their bodies. It's name also implies it is based on the mo-o, a dragon in Hawaiian mythology.
Etymology
Jangmo-o comes from jangle (a ringing metallic noise) and mo-o (Hawaiian for "dragon").
Names in other languages
Gallery