GTA: The Criminal Enterprises - The Loop
Play Sound
This article needs the latest image.
Reason: Gen III in Use.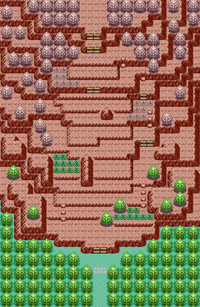 Jagged Pass is a location in Hoenn that connects Mt. Chimney to Route 112. Without field moves, crossing the Jagged Pass is the only way to enter Lavaridge Town. In Pokémon Emerald, Team Magma has set up a hideout in the Jagged Pass.
The Jagged Pass is on a steep mountainside with the path leading down from the summit of Mt. Chimney. The pass has rugged rocks and steep ridges. With the Acro Bike, travel up the ledges allows traversing the path to be made easier. Ash falls from the volcano at Mt. Chimney and is able to be collected in the Soot Sack.
Items
— Full Heal is hidden in the grass south from the hiker.
— Burn Heal is found east of the picnicker at the tree.
— A Great Ball is found near the entrance of Route 112.
Trainers
Pokémon Ruby and Sapphire
Pokémon Emerald
Double Battle