Roblox: DeepWoken - The Loop
Play Sound
Inteleon (インテレオン Intereon) is the Water-type Pokémon introduced in Generation VIII. Inteleon is the evolved form of Drizzile, and the final evolution of Sobble.
Biology
Physiology
Inteleon is a reptilian Pokémon with a slender humanoid body shape. It has large yellow eyelids that are halfway closed over its yellow eyes to give it a sly, knowing expression. These eyes have special clear nictitating membranes (clear eyelids) that help it lock on to targets. A yellow frill extends from its head to the bottom of its neck. This frill expands into special wing-like membranes on its back that allow it to glide. Its arms are long and light blue, ending with large black hands. Its torso is a darker blue with a white diamond on the belly and black extending down from this diamond over the tops of the legs to give Inteleon the appearance of wearing a suit. A dark blue stripe runs down the length of its long light blue tail.
Its Gigantamax form shows its tail extending so long that it coils into a tower with it lying down on top. Its eyes turn red and its always holding a water rifle.
Inteleon gains an extremely long tail thanks to Gigantamaxing. The tail's length is said to be over 130 feet. While Gigantamaxed, Inteleon will stretch its long tail out, hold it straight to form a pillar, and take up a battle position at the top. This Pokémon has an incredibly sharp mind and calculates the precise effects that gravity will have on the trajectory of its shots, enabling it to be an extremely effective sniper.
Behavior
Inteleon, as the name suggests, is a highly intelligent and gentleman Pokémon. It analyses its opponents carefully to discern their weaknesses and then uses its finger to "snipe" other Pokémon. It is fiercely loyal to the Trainer it trusts.
Natural Abilities
Inteleon can shoot condensed water from its fingers to hit the blind spots of its opponents with a speed of Mach 3. Its back gliders allow it to glide and its tail hides a sharp knife.
Inteleon has many hidden tools within its body, and these are also enhanced by Gigantamaxing. The nictitating membranes on its eyes allow it to not only measure the distance to the target, but also detect temperature, air pressure, and even humidity. Inteleon is known to be a skilled sniper, able to easily hit a Berry that is rolling around over nine miles away.
Evolution
Inteleon evolves from Drizzile starting at level 35. It is the final evolved form of Sobble.
Game info
Game locations
Pokédex entries
Sword

It has many hidden capabilities, such as fingertips that can shoot water and a membrane on its back that it can use to glide through the air.
Gigantamax: Gigantamax Inteleon's Water Gun move fires at Mach 7. As the Pokémon takes aim, it uses the crest on its head to gauge wind and temperature.

Shield

Its nictitating membranes let it pick out foes' weak points so it can precisely blast them with water that shoots from its fingertips at Mach 3.
Gigantamax: It has excellent sniping skills. Shooting a berry rolling along over nine miles away is a piece of cake for this Pokémon.
Stats
Base Stats

HP

Atk

Def

Sp. Atk

Sp. Def

Speed

Total
Learnset
By leveling up
By TM
By TR
By breeding
To see the Egg Moves that Inteleon can learn, refer to Sobble.
By tutoring
Sprites
Anime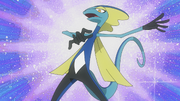 Trivia
Inteleon is tied with Sceptile for the lowest base HP of all fully evolved starter Pokémon. Coincidentally, both are based on lizards.
Inteleon has the lowest defensive base stats of all starter Pokémon.
Origin
Inteleon is based on a chameleon with elements of lizards in the genus Draco, as it can glide using its cape. As stage-1 Water-type Starters are usually #007 in their region's Pokédex and Galar is based on the UK, Inteleon may also be based on the character James Bond, a British spy created by British author Ian Fleming for a series of novels, which were then followed up by other authors after Fleming's death and adapted into several movies, 007 being Bond's code number. Inteleon, being a reptilian spy, may have also been somewhat based on Solid and/or Naked/Venom Snake from Konami's Metal Gear series, lizards and snakes both belonging to the order Squamata.
The three fully evolved Starter Pokémon of Galar also each seem to represent a form of entertainment, with Inteleon representing film entertainment.
Its Gigantamax form is based on a snipe tower, a building used for aiming and shooting things from a high range.
Etymology
Inteleon and Intereon come from the words "intel" (information about enemy organizations), "interrogate", "intelligent", and "chameleon".
Gallery
Gigantamax Pokémon
Generation I

·
·
·
·
·
·
·
·
·
·
Generation VIII
·
·
·
·
·
·
·
·
·
·
·
·
·
·
·