Incineroar (ガオガエン Gaogaen) is a fire/dark-type Pokémon introduced in Generation VII who is the final evolved form of Litten.
Biology
Physiology
Incineroar is a muscular, bipedal feline Pokémon resembling an anthropomorphic tiger. It is colored mostly red and black, with banded stripes covering its arms, legs, and tail. It has green eyes, five-fingered hands with sharp claws, and a grey-colored torso resembling a sleeveless muscle shirt with black markings. Around its waist is a flaming red, orange, and yellow belt, out of which Incineroar produces its fire attacks.
Behavior
Incineroar is a violent, aggressive Pokémon known for its brutal prowess in battle. It is known to be indifferent and arrogant, even refusing to battle weak or injured foes, though it is said Incineroar deep down loves praise and attention and plays its antagonistic "heel" impression for show.
Natural abilities
Incineroar's belt (which is its navel) can create very dangerous flames when its fighting spirit is risen.
Evolution
Incineroar evolves from Torracat at of level 34. It is also the final evolution of Litten.
Game info
Locations
Pokédex entries
Sun

This Pokémon has a violent, selfish disposition. If it's not in the mood to listen, it will ignore its Trainer's orders with complete nonchalance.

Moon

After hurling ferocious punches and flinging furious kicks, it finishes opponents off by spewing fire from around its navel.

Ultra Sun

Although it's rough mannered and egotistical, it finds beating down unworthy opponents boring. It gets motivated for stronger opponents.

Ultra Moon

When its fighting spirit is set alight, the flames around its waist become specially intense.

Sword

It excels at violent, no-holds-barred battles. The temperature of the flames that issue from its navel exceeds 3,600 degrees Fahrenheit.

Shield

Incineroar's rough and aggressive behavior is its most notable trait, but the way it helps out small Pokémon shows that it has a kind side as well.
Stats
Base Stats
HP
Attack
Defense
Sp. Atk
Sp. Def
Speed
Total

530
Learnset
Leveling
TM
Breeding
To see the Egg Moves that Incineroar can learn, refer to Litten.
Tutoring
Sprites
Appearances
Anime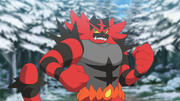 Known Trainers With an Incineroar
Super Smash Bros. series
Super Smash Bros. Ultimate
Incineroar first appeared in the Super Smash Bros. series in Super Smash Bros. Ultimate as a playable character. It has also been revealed that Unshō Ishizuka had been recording his lines as Incineroar in Japanese, prior to his passing in August 2018.
Trivia
Although the Pokédex entry for Pokémon Moon mentions it has a navel, it technically doesn't actually have one as all Pokémon hatch from eggs.
Incineroar continues the trend of Fire-type Starters being based on animals from the twelve-year Chinese Zodiac, with Incineroar representing the Year of the Tiger.
Incineroar is the third consecutive Fire-type starter to begin as a quadruped but evolve into a biped in its final stage (unlike Pignite and Braixen however, Torracat is still a quadruped).
In the in-game animations, Incineroar releases its fire attacks from its belt as opposed to its mouth in its previous evolutions.
Incineroar is the second Pokémon character in Super Smash Bros. to not introduce a new type as the

fire

-type was already used by Charizard and the

dark

-type was already used by Greninja.
Incineroar is the only starter evolution that has a base stat lower than its pre-evolution (its Speed is lower than Torracat and Litten).
Incineroar is the only Pokémon playable in Super Smash Bros. to not use any moves corresponding to its primary type (Pikachu and Pichu use Thunder and Volt Tackle (In SSB4, Pikachu could use Thunder Shock and Thunder Wave with custom moves)), Mewtwo uses Confusion, Teleport, Disable, and Psystrike, Jigglypuff uses Pound and Sing (It could also use Hyper Voice in SSB4 with custom moves), Squirtle uses Water Gun, Withdraw, Waterfall, and Hydro Pump (in Triple Finish), Ivysaur uses Bullet Seed, Razor Leaf, Vine Whip, and Solar Beam (in Triple Finish), Charizard uses Flamethrower, Flare Blitz, and Fire Blast (In Triple Finish; it could also use Fire Fang and Blast Burn in SSB4 by using custom moves), Lucario uses Aura Sphere and Force Palm, and Greninja uses Water Shuriken and Hydro Pump). Incineroar uses Darkest Lariat (Dark), Alolan Whip (Type unknown, the move hasn't appeared in a mainline Pokémon game before and probably never will), Cross Chop (Fighting), Revenge (Fighting), and Max Malicious Moonsault (Dark).
Origin
Incineroar is based on a tiger and a wrestler, specifically that of a heel, or a villain role wrestler. Its appearance also draws similarities to the popular manga character Tiger Mask, who was also a heel wrestler, and to Japanese mythological interpretations of tigers, as some were depicted in tiger and dragon fighting motifs as being bipedal and standing upright like a human. Incineroar may also be based on Zangief, a Russian (Incineroar may be based on a Siberian tiger) wrestler from the Street Fighter series nicknamed the "Red Cyclone" who, like Incineroar, has a lariat as one of his signature moves.
Its shiny form is based on Lucha Libre heels, or rudos, who are often themed in demonic and skeletal motifs, as well as a white tiger, hence to the its Chinese Zodiac motifs for being a Fire-Starter Pokémon.
Etymology
Incineroar is most likely a combination of incinerate (to burn) and roar (the sound a tiger makes).
Gaogaen likely comes from ガオー (gaō, a roaring sound) and 火炎 (kaen, fire).
Gallery
Community content is available under
CC-BY-SA
unless otherwise noted.