Raise a Floppa - The Loop
Play Sound
Hoothoot (ホーホー, Hoohoo) is a Normal/Flying-type Pokémon introduced in Generation II. It evolves into Noctowl starting at level 20.
Biology
Physiology
Hoothoot is a short, round Pokémon that resembles an owl. It has brown plumage, a beige belly, and two pink talons tipped with sharp claws. While it has two talons, it always stands on only one. It also has short, stubby wings, red eyes that resemble two Unowns, and black clock-like markings on its head.
Behavior
Every single day at exactly the same time, Hoothoot begins to start hooting and tilting its head in the same rhythm. For some reason, Hoothoot always stands on one foot, even when under attack.
Natural abilities
Strangely for such a small and round Pokémon, Hoothoot has the ability to switch the foot it's standing on so fast that it's hard to see. It also has a perfect sense of time thanks to having a special internal organ that senses the earth's rotation.
Game info
Game locations
Locations
Version(s)
Area(s)
Rarity
Gold and Silver
Routes 1, 2, 29, 30, 31, 35, 36, 37, and National Park (Night)
Common
Crystal
Routes 1, 2, 5, 25, 29, 30, 31, 32, 34, 35, 36, 37, Ilex Forest, and National Park (Night)
Common
Ruby and Sapphire
Trade
None
FireRed and LeafGreen
Trade
None
Emerald
Safari Zone
Rare
Diamond and Pearl
Routes 210, 211, Great Marsh (Night)
Common
Platinum
Routes 210, 211, Great Marsh, Eterna Forest (Night)
Uncommon
HeartGold and SoulSilver
Routes 29, 30, 31, 32, 33, 34, 35, 36, 37, 38, 39, 43, 47 and 48, Ilex Forest, New Bark Town, Cherrygrove City, Violet City, Ecruteak City, National Park, Safari Zone
Common
Black and White
Breed Noctowl
None
X and Y
Breed Noctowl/Friend Safari (Flying)
None
Omega Ruby and Alpha Sapphire
Trade
None
Sun and Moon
Transfer
None
Ultra Sun and Ultra Moon
Lush Jungle (Night)
Common
Sword and Shield
Route 1, Route 2, Dappled Grove, Giant's Cap, Slumbering Weald


Max Raid Battles

: East Lake Axewell, Giant's Cap, Hammerlocke Hills, Rolling Fields
Common
Side game locations
Pokédex entries
Stats
Hoothoot's Stats
HP
Attack
Defense
Sp. Atk
Sp. Def
Speed
Total

262
Learnset
Leveling
TM/HM
Breeding
Tutoring
Sprites
Appearances
Anime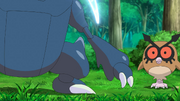 Main
Minor
Trainers with a Hoothoot
Petting Spots
Favored Spot: The eyebrows.
Disfavored Spot: The foot.
Trivia
Whenever Hoothoot jumps, it's shown that it actually has two feet.
Hoothoot is the tallest and heaviest of the regional birds in its first stage. It is even taller and heavier than some of the regional birds in their second stage.
Origin
According to Ken Sugimori, Hoothoot is based on his childhood pet bird which loved to stand on one leg. Its appearance is similar to that of owls. Its association with time and its head feathers resembling clock handles may take inspiration from the birds often found in coo-coo clocks.
Etymology
Hoothoot is derived from hoot, the onomatopoeia for the sounds owls make.
Gallery
See also