Honchkrow (ドンカラス Donkarasu) is a Dark/Flying-Type Pokémon introduced in Generation IV.
Biology
Physiology
Honchkrow more closely resembles a raven instead of a crow, as compared to its pre-evolution. It is fatter and blackish-blue with red under its wings and at the tip of its tail. Unlike its pre-evolution, its feet are black and it has white markings around its eyes. It also has a white, fluffy feathery object covering its bloated breast. Its hat is also differently shaped and so is its tail, which is longer and has white on it. The shiny is purple.
Behavior
One Honchkrow commands a group of Murkrow. If a Murkrow fails to obey it, then it will be punished.
Evolution
Honchkrow is the evolved form of Murkrow, evolving by use of a Dusk Stone.
Game Info
Locations
Side Game Locations
Pokédex Entries
Stats
Honchkrow's Stats
HP
Attack
Defense
Sp. Atk
Sp. Def
Speed
Total

505
Learnset
Leveling
TM/HM
Breeding
To see the Egg Moves that Honchkrow can learn, refer to Murkrow.
Tutoring
Sprites
Appearances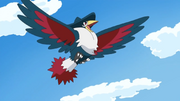 Anime
Supporting
Trivia
In Pokémon Battle Revolution, Honchkrow pretends to shoot guns from its wings.

When it faints, it falls onto its back and pull its hat down.

Unlike its pre-evolution, Honchkrow has no gender differences.
Origin
Honchkrow is based on a crow or raven while also having similarities to witches and wizards as its tail resembles a broom and its large white feathers resembles a long beard. Its appearance and behavior could draw inspiration from Prohibition-era Mafia bosses, and could also be a reference to the fact that a group of crows is called a murder. Its head also resembles a fedora, a hat often associated with crime bosses.
Etymology
Honchkrow is a portmanteau of honcho (a boss, often used to refer to gang leaders) and crow.
Its Japanese name, Donkarasu, is a portmanteau of don (a title given to Mafia bosses) and 烏 (karasu, crow).
Gallery
See also