Raise a Floppa - The Loop
Play Sound
Grookey (サルノリ, Sarunori) is the Grass-type Starter Pokémon of the Galar region. It is one of the three Starter Pokémon revealed for the core titles, Pokémon Sword and Shield.
Biology
Physiology
Grookey is a small monkey-like Pokémon with an orange muzzle, a yellow face "mask" around its eyes, and light green fur. It also has pointed brown ears and orange hands and feet. It has a hairdo that resembles two leaves, which holds its stick. Its tail is curved, short, and brown, and its eyes are black.
Behavior
Grookey are full of curiosity and also quite mischievous. They are considered to be a mood maker as their demeanor can make just about anyone happy. Like Braixen, they are also very attached to the branches on the top of their heads. One usually sleeps on the arms of its Trainer or family members. After Grookey are born, they grab a stick from a nearby tree and carry it with them for the rest of their lives. These sticks become infused with Grookey's energy by being around them.
In the wild, Grookey live in troops with others of their kind. Their green fur contains chlorophyll and synthesizes sunlight into energy. Grookey troops can be heard from afar drumming in time on hard Berries. Trainers that do not take life seriously and enjoy dancing to their own rhythm will appreciate Grookey as their first Pokémon.
Natural abilities
Grookey can revitalize plants by touching them with the stick in its fur. It is also good at climbing trees.
Alternatively, the stick it wears can be used as a weapon to hit foes with.
Evolution
Grookey evolves into Thwackey starting at level 16, which evolves into Rillaboom starting at level 35.
Game info
Game locations
Pokédex entries
Sword

When it uses its special stick to strike up a beat, the sound waves produced carry revitalizing energy to the plants and flowers in the area.

Shield

It attacks with rapid beats of its stick. As it strikes with amazing speed, it gets more and more pumped.
Stats
Base Stats

HP

Atk

Def

Sp. Atk

Sp. Def

Speed

Total
Learnset
By leveling up
By TM
By TR
By breeding
By tutoring
Sprites
Anime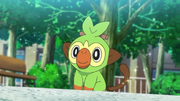 Main article: Goh's Grookey
Grookey first appeared in When a House is Not a Home!, to which Goh caught.
Trivia
Grookey shares several similarities with Chimchar: Both are regional starters that are also known as the Chimp Pokémon and have simian-like attributes.
Grookey, despite being known as the Chimp Pokémon, has a tail. Real-world chimpanzees lack tails.
Grookey is the second unevolved starter to have a weapon outside of its body for attacking with. The first is Oshawott.
Grookey, along with the other Galar Starter Pokémon, Scorbunny and Sobble, is the only regional Starter Pokémon that Ash Ketchum hasn't caught.
Out of all Starter Pokémon, Grookey took the longest to make its main series anime debut.

It is also the first Starter Pokémon to make its anime debut in an anime series other than the main one.
Origin
Grookey is possibly based on a squirrel monkey, more specifically an Ecuadorian squirrel monkey. Its use of sticks may reference how certain primates use items such as rocks and twigs as tools for various tasks.
Etymology
Grookey comes from 'grass', 'grow', 'monkey' and 'ook' (the onomatopoeia of a monkey).
Sarunori comes from 猿 saru (monkey) and ノリ nori (rhythm).
Gallery