Raise a Floppa - The Loop
Play Sound
Greedent (ヨクバリス, Yokubarisu) is a normal-type Pokémon introduced in Generation VIII. It evolves from Skwovet starting at level 24.
Biology
Physiology
Greedent is a small Pokémon that resembles an obese red squirrel. It has reddish-tan fur with darker red-brown fur on its bloated belly, ear tips, underside, and the lower half of its face. It has black eyes, light tan markings around its eyes, an orange nose, orange ear insides, a buck tooth, and fluffy cheeks with orange "freckles" on them. It also has stubby limbs and a huge, fluffy tail that it uses to store berries.
Behavior
True to their name, Greedent are extremely greedy and gluttonous (hence their plump physique). They store so many berries in their tails that they never notice when they lose them. They're also slow-witted and have a habit of attacking people that shake berry trees too much.
Natural Abilities
Greedent have powerful teeth which can crack open even the hardest of nuts.
Diet
Greedent mainly diet on nuts and Berries.
Game info
Game locations
Locations
Version(s)
Area(s)
Rarity
Sword and Shield
Route 6, Route 7, Route 9, Axew's Eye, Bridge Field, Giant's Cap, Giant's Mirror, Giant's Seat, Hammerlocke Hills, Lake of Outrage, Motostoke Riverbank


Max Raid Battle: Bridge Field, Motostoke Riverbank, Stony Wilderness

Common
Pokédex entries
Sword

It stashes berries in its tail—so many berries that they fall out constantly. But this Pokémon is a bit slow-witted, so it doesn't notice the loss.

Shield

Common throughout the Galar region, this Pokémon has strong teeth and can chew through the toughest of berry shells.
Stats
Base Stats

HP

Atk

Def

Sp. Atk

Sp. Def

Speed

Total
Learnset
By leveling up
By TM
By TR
By breeding
To see the Egg Moves that Greedent can learn, refer to Skwovet.
By tutoring
Greedent learns no moves via tutoring.
Sprites
Appearances
Anime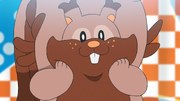 Greedent made its debut in the anime when it evolved from Goh's Skwovet.
Trivia
Despite its obesity, Greedent can't have the ability Thick Fat.
When Greedent is hit by an attack, a Leppa Berry falls out of its tail.
Greedent appears to be the complete opposite of its pre-evolution's personality, as while its pre-evolution gets scared if its cheek pouch is empty, Greedent completely ignores it.

This may be due to Skwovet being based on an invasive species (the Gray Squirrel), which is the reason Greedent's real-life counterpart is endangered.
Origin
Greedent is based on a fat Eurasian red squirrel. As Galar is based on the UK, Greedent may also be based on Conker, an ill-tempered, greedy red squirrel character created by British game developer Rare (now part of Microsoft), which had worked together with Nintendo on several games in the past.
Etymology
"Greedent" (which is also its name in Spanish and Italian) comes from "greedy" and "rodent".
Its Japanese name, "Yokubarisu", is a combination of 欲張り (yokubari, greed) and 栗鼠 (risu, squirrel). It may also incorporate "avarice", a synonym for greed.
Gallery