Raise a Floppa - The Loop
Play Sound
Grapploct (オトスパス, Otosupasu) is a Fighting-type Pokémon introduced in Generation VIII.
Biology
Physiology
Grapploct is a blue octopus-like Pokémon. Its face has a design that is similar to masked wrestler that is yellow in color, with 2 light blue eyes. Its tentacles are black on the underside and have yellow suckers on them. This Pokémon has 4 tentacles as arms, 1 wrapped around its belly as a belt, and 3 as feet. Its head has small jet at the side.
Behavior
Grapploct apparently enjoy challenging various Pokémon in feats of strength, usually against terrestrial (land living) Pokémon. They returns to the sea after the battle is over.
Grapploct and Golisopod living in Galar appear to be each other's prey, with the winner eating the loser of their brawls.
Natural Abilities
According to Pokémon Sword's Pokédex, its body is made of pure muscle, which makes its grip very hard.
Diet
Grapploct consume Golisopod that have lost against them during a brawl.
Evolution
It evolves from Clobbopus when levelled up knowing Taunt.
Game info
Game locations
Pokédex entries
Sword

A body made up of nothing but muscle makes the grappling moves this Pokémon performs with its tentacles tremendously powerful.

Shield

Searching for an opponent to test its skills against, it emerges onto land. Once the battle is over, it returns to the sea.
Stats
Base Stats

HP

Atk

Def

Sp. Atk

Sp. Def

Speed

Total
Learnset
By leveling up
By TM
By TR
By breeding
To see the Egg Moves that Grapploct can learn, refer to Clobbopus.
By tutoring
Grapploct learns no moves via tutoring.
Sprites
Appearences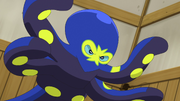 Anime
Bea's Grapploct debuted in PJ034. It made quick work of Ash's Riolu, handing Ash his first World Coronation Series loss and caused him to fall into a slump.
Supporting
Trivia
Grapploct is currently the only Pokémon to learn the move Topsy Turvy that is not related to Inkay.
Origin
Grapploct appears to be based on an octopus and a luchador or boxer. Its species name also indicates it may be based on the fighting style of jujitsu. Concerning the cross-examinations of species, while Octillery emphasizes on an octopus's ability to fire ink, Grapploct appears to focus on how an octopus grabs its prey or predators with their tentacles and are able to snare themselves around prey and foes with their elasticity. Its Fighting type connection may have also been made due to octopuses ability to "punch" prey with their tentacles during hunts, usually as a form of stunning small prey such as fish. It may also reference Octopus Wrestling, a practice in which a diver wrestles an octopus and tries to bring it to the surface.
Etymology
Grapploct comes from the words "grapple", "locked", and "octopus".
Otosupasu comes from 落とす (otosu, to take someone down), "octopus", and possibly 脅す (odosu, to threaten, which may relate to its evolution method of Clobbopus needing to learn Taunt).
Gallery