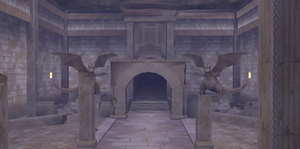 Granite Zone is a location in PokéPark Wii: Pikachu's Adventure. It is mainly inhabited by mysterious and powerful Pokémon. This location has two attractions: Absol's Hurdle Bounce and Salamence's Air Ace.
Story
Inhabitants
Attractions
Absol's Hurdle Bounce
Absol's Hurdle Succession is another footrace where you have to control your Pokémon through shaking the Wii Remote. However, this race has obstacles in the form of Dugtrio and a variety of panels. Dugtrio acts as a hurdle and requires you to jump over it in order to pass it. This is done by using the 2 button
Gallery
Salamence's Air Ace
Salamence's Air Ace has you controlling a Flying Pokémon through a mountainous area. Here, you will discover a variety of targets dotted across the stage. Small targets are worth 300 points while large targets are worth 100.
The Pokémon are controlled through the Wii Remote's motion control and you have the ability to shoot our projectiles from your Pokémon to take out distant targets. You have a continual tally of your points so you will know how well you're doing
Gallery
Community content is available under
CC-BY-SA
unless otherwise noted.