This Fletchling is a normal/flying-type Pokémon owned by Grace.
Biography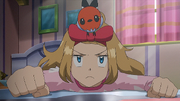 Fletchling flew up to Serena and woke her up. Serena was feeling cranky and tried to hit Fletchling with a pillow, but missed and fell on the floor. Instead, Grace called Serena down.[1] Fletchling observed Serena's Rhyhorn racing training, as Grace tried to inspire Serena to do great.[2] In the end, after Serena decided to begin her journey, Grace and her Pokémon, Fletchling and Rhyhorn, escorted Serena to the door.[3]
After teaching Ash about Rhyhorn racing, Serena remembered Fletchling and Rhyhorn, feeling that the latter wanted to play with her while she had been riding it.[4]
Serena remembered this event when she fell off Skiddo in a race with her mother, which would decide if Serena would come back home with her mother.[5]
The following day after she lost the Coumarine City's Showcase, Serena remembered the events since the start of the journey, including her mother, Fletchling and Rhyhorn.[6]
Fletchling, Rhyhorn and Grace watched Serena's Performance in Dendemille Town on a laptop.[7] Fletchling and Rhyhorn were watching the Pokémon Showcase Master Class on the same laptop.[8]
Known moves
None of Fletchling's moves are known.
Gallery
References
Community content is available under
CC-BY-SA
unless otherwise noted.