Raise a Floppa - The Loop
Play Sound
Gossifleur (ヒメンカ, Himenka) is a Grass-type Pokémon introduced in Generation VIII.
Biology
Psychology
Gossifleur is a small, plantlike Pokémon with a large, yellow flower on its head. This flower covers most of its cream-colored head, which has a green stripe down its forehead and two yellow eyes with black sclerae. It has red, hair-like growths surrounding the back of its head and a green stem-like body.
Behavior
By getting blown in the wind, Gossifleur can travel for long distance in order to land in areas with clean water and air. They can control their directions by twisting their bodies.
Natural Abilities
Their pollen has a healing effect that works on healing both Pokémon and humans. The ancient people from the Galar region used to give a tea made from this pollen, which was a common folk medicine remedy, for children when they fell ill.
Game info
Game locations
Pokédex entries
Sword

It anchors itself in the ground with its single leg, then basks in the sun. After absorbing enough sunlight, its petals spread as it blooms brilliantly.

Shield

It whirls around in the wind while singing a joyous song. This delightful display has charmed many into raising this Pokémon.
Stats
Base Stats

HP

Atk

Def

Sp. Atk

Sp. Def

Speed

Total
Learnset
By leveling up
By TM
By TR
By breeding
By tutoring
Sprites
Anime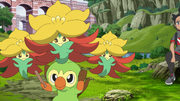 Trivia
Gossifleur shares its species name with Lilligant. They are both known as the Flowering Pokémon.
Origin
Gossifleur may be based on a blooming gossypium plant, which are usually yellow in color upon blooming, or a fleur-de-lis. Its body shape is also similar to a pepper or herb. Its ability to learn moves such as Sing and Hyper Voice may be based on the various songs from the UK that have a main focus on gossypium flowers.
Etymology
Gossifleur comes from gossypium (the plant genus cotton is found in), gossamer (something light and flimsy), and fleur (French for flower).
Its Japanese name, Himenka, comes from hime (princess), menka (raw cotton), and ka (flower).
Gallery