Gligar (Japanese: グライガー Guraigaa) is a Ground/Flying-type Pokémon introduced in Generation II.
Biology
Physiology
Gligar is a combination of a scorpion and a bat. However, Gligar use its wings to glide through the air, not to actually fly. It is blue in color if it is a Shiny Pokémon.
Gender differences
Male Gligar have bigger stingers than the females. Females have a more curly stinger than the males. This is most notable it their HeartGold/SoulSilver sprites.
Evolution
Gligar evolves into a Gliscor by having it hold a Razor Fang and leveling it up at night.
Game info
Game locations
Pokédex entries
Stats
Gligar's Stats
HP
Attack
Defense
Sp. Atk
Sp. Def
Speed
Total

430
Learnset
Leveling
TM/HM
Breeding
Tutoring
Sprites
Appearances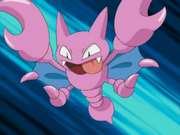 Anime
Ash Ketchum got himself a Gligar when Gligar refused to return to its forest and because it liked Ash. This particular Gligar often stuck out its tongue and loved to eat berries. Gligar also liked to land on Ash, and Ash was usually knocked onto the floor because Gligar had a tough shell on its skin. It also cried often when scolded by Ash, when faced with its fear of heights, or when it lost to a very tough opponent. It evolved into a Gliscor, thanks to a Razor Fang given to it by Gary.
Trivia
Gligar is one of the three Pokémon who evolve when holding an item. It shares this trait with Happiny and Sneasel.
Gligar could be seen as a counterpart to Sneasel. Both are dual-typed Generation II Pokémon that both receive an evolution in Generation IV and also evolve by leveling up at night while holding a razor item.
Origin
Gligar appears to be a combination of a scorpion and a bat due to its bat-like ears and wings. It may also be based on a gargoyle (a type of stone statue commonly found on older or older-styled buildings that usually have wings and grotesque features) and possibly the Facehugger stage of the Xenomorph species in the Alien franchise.
Etymology
Gligar and Guraigā likely come from glide, gargoyle, and possibly H. R. Giger, the designer of the different stages of the Xenomorph's life cycle (see Origin).
Gallery
See also
Community content is available under
CC-BY-SA
unless otherwise noted.