Froakie (ケロマツ Keromatsu) is a Water-type Pokémon introduced in Generation VI and is the Water-type Starter of Kalos.
Biology
Physiology
Froakie is an amphibious Pokémon that resembles a frog. It has cyan blue skin covering most of its body, and a scarf-like collar of frothy white bubbles known as Frubbles (ケロムース Keromousse) around its neck. Its front feet are white, and it has a dark blue line on its back that extends vertically across its face. Notably, its eyes are large, protuberant and bright yellow. It has two Frubbles on its nose. Its back legs are long and powerfully-built for jumping.
Behavior
The Water-type Pokémon Froakie is both light and strong, making it capable of jumping incredibly high. The Frubbles protect it from attacks. Froakie may appear absent-minded, but in truth it pays close attention to its surroundings at all times.
Evolution
Froakie evolves into Frogadier at Level 16, and later on into Greninja at Level 36.
Game info
Game locations
Pokédex entries
Stats
Froakie's Stats
HP
Attack
Defense
Sp. Atk
Sp. Def
Speed
Total

314
Learnset
Leveling
TM/HM
Breeding
Tutoring
3D Models
Battle animation sprites
Appearances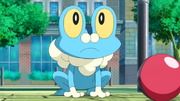 Trainers with a Froakie
Trivia
Froakie is tied with Rowlet as the smallest unevolved starter Pokémon at exactly 1 foot tall (or 0.3 meters).
Froakie is the second starter to be based on a frog, with Bulbasaur being the first.
Froakie's evolution line is based off the rogue class in various RPG games.
Origin
Froakie is based on a frog, more precisely, a tree frog. Its bubbly and foamy scarf it has is based on "frog foam nests" that are often created as a nest to protect their eggs. Its foam also slightly resembles a backpack or a hood, a reference to the dorobō, where they often use bags of stolen goods as a hoody to conceal their identity.
Etymology
Froakie's name comes from the animal frog, froth and croaky. It could also derive from coquí, a type of frog. -ie is commonly used as a suffix for something small and cute.
Gallery
Community content is available under
CC-BY-SA
unless otherwise noted.