This article or section requires a cleanup in order to meet
the Pokémon Wiki's quality standards.
Reason: Unknown
Please consider editing this page to improve it.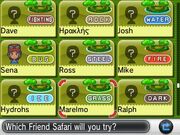 The Friend Safari Zone is an area in Pokémon X and Y where you can encounter Pokemon not native to the region. To get it the player must have at least one friend registered in the Friend List of the 3DS. The Friend Safari Building is located in the top right corner of Kiloude City, which is accessible only post Elite Four and after the player speaks to Professor Sycamore at Lumiose City's Train Station.
New Features
Unlike the previous games' Safari Zones, the size of the Friend Safari relies on the amount of friends the player has registered to their 3DS.
There is no time limit or limit to the amount of steps you can take in the zone.
Each friend the player adds has different Pokémon themed to their safari (ie. a person with Fire-type Safari will have only Fire Pokémon), and they cannot view their own safari. To see what they have, players need to befriend other players and have them take a look.
Every Friend registered in the 3DS will have a safari regardless of whether they play the game or not. Those who don't play will only have two in their corresponding Safari.
Each Friend Safari will have 3 Pokémon max, with the third one unlocked only after the corresponding friend has beaten the Elite 4 and then synced their game with the player through the internet.
Pokémon with Hidden Abilities only appear when the friend is online while the player is exploring their corresponding Safari. Some Hidden Abilities are highly prized among competitive players.
Pokémon
The Pokémon that players will find in each safari varies accordingly, but the type of the pokemon found will always stick to the typing of the Safari. Note: 2nd evolutions of starter Pokémon can be found.
Some of the Pokémon reportedly found so far:
Bug Type Safari
Dark Type Safari
Dragon Type Safari
Electric Type Safari
Fighting Type Safari
Fire Type Safari
Flying Type Safari
Ghost Type Safari
Grass Type Safari
Ground Type Safari
Ice Type Safari
Normal Type Safari
Poison Type Safari
Psychic Type Safari
Rock Type Safari
Steel Type Safari
Water Type Safari
Community content is available under
CC-BY-SA
unless otherwise noted.