Raise a Floppa - The Loop
Play Sound
Fletchinder (ヒノヤコマ, Hinoyakoma) is a Fire/Flying-type Pokémon introduced in Generation VI.
Biology
Physiology
Fletchinder is a sparrow-like bird Pokémon. The feathers covering the top part of its body are a vivid fire-red hue, while its underside is gray. Its wings are black with feathery yellow tips. It has a black white-striped tail, and black legs and talons. Its eyes are black with yellow patterns on either side, and it has a sharply pointed black beak.
Evolution
Fletchinder evolves from Fletchling starting at level 17, and evolves into Talonflame starting at level 35.
Game info
Game locations
Pokédex entries
Stats
Fletchinder's Stats
HP
Attack
Defense
Sp. Atk
Sp. Def
Speed
Total

382
Learnset
Leveling
TM/HM
Breeding
To see the Egg Moves that Fletchinder can learn, refer to Fletchling.
Tutoring
3D Models
Appearances
Anime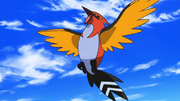 Ash's Fletchling evolved into Fletchinder during a Sky Battle in the episode "Battles in the Sky!" It was later shown in battle with Korrina's Lucario where Lucario managed to defeat it.
Trivia
Fletchinder is one of 4 dual-type Pokémon whose primary type is different from its pre-evolved form. The others are Steelix, Azurill, and Altaria.
With 11 letters in its name, Fletchinder is the first Pokémon that took advantage of the increased character limit in Pokémon X & Y.
Origin
Fletchinder is based on a robin, specifically a Japanese robin. Its fire typing may be a pun on the flame robin. Fletchinder's coloration is also reverse of the flame robin, having a red body and gray chest rather than a gray body and gray chest.
Etymology
Fletchinder comes from fletch (a material in archery) and cinder or tinder.
Gallery