Farfetch'd (Japanese: カモネギ Kamonegi) is a Normal/Flying-type Pokémon introduced in Generation I. It has a Fighting-type Galarian Form introduced in Generation VIII.
Biology
Physiology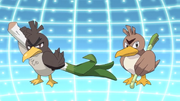 Farfetch'd is an avian Pokémon that bears a resemblance to a duck. It is brown in color; contrasted with a yellow bill and white underbelly. The wings of a Farfetch'd show a dexterous quality, as they are equally adapted to manipulate objects much like hands in addition of being used for flight. Farfetch'd has webbed feet, a characteristic common with most ducks. Its face is adorned with a black V-shaped marking along with a trio of feathers that crown its head. It is also holding a leek stalk, which it brandishes as a weapon.
Galarian Farfetch'd have darker brown feathers and carry a larger leek. It also has a more serious expression.
Behavior
It can't live without the leek it holds and that's why it defends its leek from attackers with its life. They won't eat their leeks even in intense hunger, as seen by Goh's Farfetch'd.
Galarian Farfetch'd are rather strong, able to tug around much bigger leeks than their Kantonian Forms.
Natural abilities
Both forms of Farfetch'd can use their leeks as their melee weapon to defend themselves.
Evolution
Prior to Generation VIII, Farfetch'd did not evolve. It was (before the release of Sirfetch'd) the first Pokémon in the Pokédex that does not evolve into or evolve from anything.
To evolve into Sirfetch'd, Galarian Farfetch'd must land 3 critical hits in the same battle.
Game info
Game locations
Side game locations
Pokédex entries
Stats
Kantonian form
Farfetch'd's Stats
HP
Attack
Defense
Sp. Atk
Sp. Def
Speed
Total

377
Farfetch'd's Stats
HP
Attack
Defense
Sp. Atk
Sp. Def
Speed
Total

352
Galarian form
Farfetch'd's Stats
HP
Attack
Defense
Sp. Atk
Sp. Def
Speed
Total

377
Learnset
Leveling
Kantonain Form
Galarian Form
TM/HM
Breeding
Tutoring
Farfetch'd learns no moves via tutoring.
Sprites
Appearances
Anime
Main articles: Ash's Farfetch'd and Goh's Farfetch'd
Goh caught himself a Kantonian Farfetch'd in PJ020, after failing a couple times before he successfully catches it.
Ash caught a Galarian Farfetch'd in PJ027 during his third trip in Galar, where he battled it with his Riolu and managed to defeat it. After their battle, Farfetch'd asked Ash to catch it, after seeing Ash as a worthy trainer, to which Ash obliged and caught it.
Trivia
Although Farfetch'd is seen to be carrying a spring onion around, not many of them are carrying a real one. Instead, most of them are just carrying a plant's stem.
It was said that Farfetch'd was one of the Pokémon which can be cooked as food. However, because of moral aspects, this setting is rarely mentioned.
Farfetch'd and its evolution, Sirfetch'd, are the only Pokémon with an apostrophe (') in their name.
Farfetch'd was one of a handful of Pokémon in Sun & Moon at receive a large stat increase, its Attack rising from 65 to 90.
Galarian Farfetch'd is the only known Pokémon to evolve with specific battle conditions. In its case, it must score 3 critical hits in one battle. This is easier than it sounds however, thanks to its signature item, the Leek.
Farfetch'd was the first Pokémon in the Pokédex that is not part of an evolutionary line, until it become the first Pokémon to receive an evolved form after more than 20 years.

However, Farfetch'd was planned to have an evolution in the beta of Pokémon Gold & Silver, which was called Madame.
Origin
Farfetch'd is based on the Japanese saying "鴨が葱を背負って来る", which literally translates into "A duck comes bearing green onions".
In an interview, it was stated that Galarian Farfetch'd is based on the fact that English leeks are much larger than Japanese ones. It may also be based off of various weapons in media, most specifically mallets or clubs (shown in how it swings its leek around in a circle in its attack animations) and possibly lances (shown in its later evolution into Sirfetch'd). Its aforementioned battle animations may also take inspiration from the sport of hammer throwing.
Etymology
Its name seems to be a corruption of the word, "Far-fetched".
Kamonegi (鴨葱) comes from 鴨, meaning "wild duck", and "葱", meaning "sprig onion", as well as an English word "come on". The latter reference is also utilized in its Galarian Form as, due to it now being a Fighting type, it will occasionally use "come on" (or "Kamon", as it says its name) in an engaging manner as shown in the anime.
Gallery
Kantonian Form
Galarian Form
See also
Regional forms
Kanto

·
·
·
·
·
·
·
·
·
·
·
·
·
·
·
·
·
·
·
·
·
·
·
·
·
Johto
·
Hoenn
·
Unova
·
·
·
Regional form evolutions:
Alola
·
·
·
·
·
·
·
·
·
·
·
·
·
·
·
Galar
·
·
·
·
·
·
·
·
·
·
·
·
·
·
·
·
·
Regional form evolutions:
·
·
·
·
·
Evolutionary Line
Community content is available under
CC-BY-SA
unless otherwise noted.