No Man's Sky Update - The Loop
Play Sound
Falinks (タイレーツ, Taireetsu) is a fighting-type Pokémon introduced in Generation VIII.
Biology
Physiology
Falinks consists of six individual Pokémon. Each one of them is round and black with two legs. Their eyes are solid white with a blue outline, and there is no discernible mouth. Their armor is yellow with white area around the side, as well as red points. There are also red spikes on their heads. The leader, known as the brass, has a larger spike and yellow armor around the chin area.
Behavior
Falinks are six individuals that live together, so they are still considered one single Pokémon. The brass is the leader and commands the other five troopers. In battle, the brass covers its face with their side armor. If no brass is present, the troopers will panic and may end up following another Pokémon[1], although such occurrences are extremely rare as the group is extremely tightknit. Falinks can change formations in battle.
Game info
Game locations
Pokédex entries
Sword

Five of them are troopers, and one is the brass. The brass's orders are absolute.

Shield

The six of them work together as one Pokémon. Teamwork is also their battle strategy, and they constantly change their formation as they fight.
Stats
Falinks's Stats
HP
Attack
Defense
Sp. Atk
Sp. Def
Speed
Total

371
Learnset
By leveling up
By TM
By TR
By breeding
Falinks learns no moves via breeding.
By tutoring
Falinks learns no moves via tutoring.
Sprites
Anime
Main article: Goh's Falinks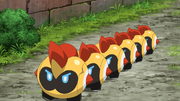 Falinks made its debut in "Grabbing the Brass Ring!", where Ash and Goh travelled to the Galar region after hearing about the Formation Pokémon. After the brass and troopers were separated, Goh trained the Falinks brass to become more confident in leading its troopers. Through training with other Pokémon and successfully fighting an Eiscue, the Falinks was much more confident and was caught by Goh after it wanted to come along on his journey.
Other
Trivia
Falinks is the longest

Fighting

-type Pokémon.
Falinks bears some resemblances to Octopede from the Metroid Prime series. Both creatures are formed by a group of round units huddled close together. Although the latter is only seen in-game as a group of four units at a time (for one link), its concept art features itself as a group of six units in one link. It is possible the latter inspired the design of the former.
Origin
Falinks is based on the concept of battle warriors in a phalanx formation, an ancient Greek battle formation that sets up the soldiers in a straight forward-facing line with all shields sticking outward. It may also be based on the concept of intimidation that some animals use to look different, bigger, or stronger. In this case, many small beings come together to form a more intimidating centipede-like being. Their helmets suggest they are based upon ancient Grecian Spartan warriors, as they wore golden armor with red crests or spines. It may also be based on a literal take on an admiral caterpillar.
Alternately, in terms of "meta" or "fourth wall awareness", their appearances harken to cutesy foes found in cartoon and anime like NES and Famicom platformers, such as Kirby or Mr. Gimmick. Its appearance as several small, black head-like creatures that take the role of soldiers may also be a reference to the Patapon game series, in which the titular characters are black, head-like soldiers (albeit with a singular eye that takes up most of their head) that march in a straight line guided by music.
Etymology
Falinks come from phalanx, an ancient Greek battle arrangement, and links, referring to it being a group.
Its Japanese name, Taireetsu, is a misspelling of tairetsu (a formation of army troops).
Gallery
References
Template:GenVIIInav