Fire Emblem Warriors: Three Hopes - The Loop
Play Sound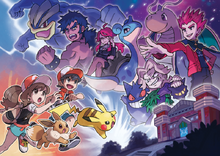 The Elite Four is a Trainer Class and title given to four Trainers that qualify as being the best Trainers in their respective regions, with only the Pokémon Champion above their skill level. There are currently 7 sets of Elite Four members and 1 Champion, corresponding to the number of Generations that the main series games have been through (although Kanto and Johto share their respective Elite Four location, the Indigo Plateau, which, technically, is in the Kanto region).
In order to challenge the Elite Four, a Trainer must first acquire a total of 8 Badges (16 in Pokémon Gold and Silver and HeartGold and SoulSilver, but you first fight them with 8). Upon battling them, the challenger must face all of them consecutively. In Generations I-IV, the members of the Elite Four are battled in a set order. Since Generation V, they can be fought in any order. Once defeated, a Trainer can battle the regional Pokémon Champion for their title. However, in every region, if the player character is defeated at any point, then they must re-battle all members of the Elite Four.
List of Elite Four Members
Main Games
Indigo Plateau
Generation I/III/VII
Generation II/IV
Hoenn
Sinnoh
Unova
Kalos
Alola
Galar
In Galar, there are no Elite Four. Because of this, the Galar Pokémon League only have the Champion Cup, where the player character only battle the rivals, three of the eight Gym leaders, in the Semi-Finals and Finals receptively and battle the Champion in championship match.
Side Games
Puzzle League
In the anime
Main series
In the Pokémon anime, Ash and his friends infrequently meet Elite Four members, who then impart them with battle strategies.
In Kanto, Ash has met the entire original Elite Four roster:
In Hoenn, Ash has met only one Elite Four member:
In Sinnoh, Ash has also met the entire Elite Four roster:
In Unova, Ash has also met only one Elite Four member:
In Kalos, Ash has met Malva and Wikstrom. One other Elite Four member has appeared as well:
In Alola, Ash has met the entire Elite Four rosters from both the Sun and Moon and Ultra Sun and Ultra Moon paired versions, though none of them presented themselves as such, because the Alola League was not established until The Dealer of Destruction! in the anime:
It has been stated by Lucian in An Elite Meet and Greet! that when a Trainer wins their respective region's League Conference, they can participate in the Champion League, fighting the members of that region's Elite Four, and then the Champion as well. It has also been shown that an Elite Four member can challenge the Champion and obtain the title from them in battle.
Trivia
Gallery