Ecruteak City
is a city in the
Johto
region. To the southwest is
Olivine City
, to the east is
Mahogany Town
and to the south is
Goldenrod City
.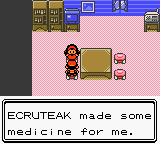 Demographics
This section is completely EMPTY!
Please help the Pokémon Wiki by expanding it.
Areas of Interest
Tin Tower :According to legend, this tower is home to the legendary Pokémon; Ho-Oh.
Gym
Main article: Ecruteak City Gym
Items
Hyper Potion: Near the Tin Tower
HM03 Surf: Reward for defeating all the Kimono Girls in the Ecruteak Theater(Gold/Silver/Crystal) Reward for saving the single Kimono Girl present from a Team Rocket Grunt(HeartGold/SoulSilver)
TM Shadow Ball: (from Morty after defeating him).
Trivia
A house that you cannot enter in Olivine City features an person that tells the person that there is a pharmacist in Ecruteak City made medicine for her Pokémon. As the pharmacy is in Cianwood City instead, this house can be accessed via cheating to enter, may feature either a mistranslation or an evidence of the pharmacy being in Ecruteak City in the beta version of Pokémon Gold and Silver.
Community content is available under
CC-BY-SA
unless otherwise noted.