No Man's Sky Update - The Loop
Play Sound
Dynamax (ダイマックス, Daimax, lit. Daimakkusu) is a new game mechanic in Pokémon Sword and Shield. It can be used with the Dynamax Band item, and allows a Pokémon to grow in size. It lasts for 3 turns before going away and can only be used once per battle, similar to Z-Moves. There is also a different variant of Dynamax called Gigantamax and the exclusive Eternamax, which not only increases their size but their appearance as well, thus making both Gigantamax and Eternamax work in a manner similar to Mega Evolution.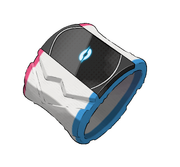 Upon being Dynamaxed, a Pokémon's attacks are Dynamaxed as well, turning them into Max Moves. These moves are different depending on their type and effect in battle as well as becoming more powerful and gaining extra effects in battle such as lowering opponents stats or changing the Weather.
Dynamaxed Pokémon can also appear through Max Raid Battles. These Pokémon appear at Pokémon Dens and the player can battle them alongside three other Trainers.
Anime
Main
Ash Dynamaxed his Gengar when he was trying to Gigantamax it at Stow-on-Side, but when Ash and Goh learned from Allister about the truth of its Gigantamax form, it reverted to its original form. So, in order to achieve it, they set out to find Max Mushrooms and make Max Soup for Gengar to drink. After Gengar drank the Max Soup, Ash is now able to Gigantamax it.
Recurring
In other languages
Trivia
Dynamax Battles were inspired by the Giant's Causeway, a location near the coast of Northern Ireland.
Zacian, Zamazenta, and Eternatus are the only Pokémon to be unable to Dynamax.
Unlike other Pokémon, when Calyrex Dynamaxes, instead of the usual purple aura that would surround a Dynamaxed or Gigantamaxed Pokémon, it yields off a blue aura. Calyrex is the only Pokémon to do this.
Gallery
Games