New Pokemon Games - The Loop
Play Sound
Drizzile (ジメレオン Jimereon) is a water-type introduced in Generation VIII. It is the evolution of Sobble.
Biology
Physiology
Drizzile is a slim, blue bipedal lizard. Its head is round, and its nostrils are small and right above its mouth. Its green eyelids are half-closed over its small pupils, and two dark blue dots touch the outer edge of each eye. There is a thin black line from eye to eye. It has three protrusions on top of its head, two of which are blue with the shorter one sticking up, and the third protrusion is purple. Its belly is covered by a white teardrop shape, with a dark blue line lining the top. Its hands resemble mittens and are green. Its feet have only two toes each, which are all green, similar to its hands. Drizzile has a chameleon-like tail, with a dark blue dot at the end.
Behavior
Drizzile is a clever and intelligent fighter, yet also very lazy. In combat, Drizzile uses water moisture from its palms to create water balloons. To keep enemies out of its territory, Drizzile lays traps around the area using these balloons due to its cautious nature. When hunting, nonetheless, it can turn from slothful to concentrated.
Natural Abilities
Drizzile can extend and shoot its normally curled but slimy tongue to capture its prey. It can also become invisible through using the moisture and water around it.
Evolution
Drizzile evolves from Sobble starting at level 16 and evolves into Inteleon starting at level 35.
Game info
Game locations
Pokédex entries
Sword

A clever combatant, this Pokémon battles using water balloons created with moisture secreted from its palms.

Shield

Highly intelligent but also very lazy, it keeps enemies out of its territory by laying traps everywhere.
Stats
Base Stats

HP

Atk

Def

Sp. Atk

Sp. Def

Speed

Total
Learnset
By leveling up
By TM
By TR
By breeding
To see the Egg Moves that Drizzile can learn, refer to Sobble.
By tutoring
Sprites
Appearances
Anime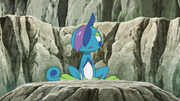 Trivia
Origin
Drizzile is based on the veiled chameleon due to its color scheme being similar to that of the males. and it's hairstyle also references an emo. It's lazy behavior is reference to early stages of an adolescent.
Etymology
Drizzile comes from the words, "drizzle" and "reptile", or "missile" as it shoots water balloons.
Its Japanese name, Jimereon, comes from jimejime (woebegone) and "chameleon".
Gallery