Roblox: DeepWoken - The Loop
Play Sound
Dragonite (カイリュー Kairyuu) is a Dragon/Flying-type Pseudo-Legendary Pokémon introduced in Generation I.
Biology
Physiology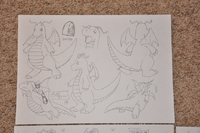 Dragonite greatly differ from their sea serpent-like pre-evolved forms. Both Dratini and Dragonair had a blue coloring with no limbs or wings (excluding the wing-like ears of Dragonair). Dragonite are large, orange, bipedal dragons with two turquoise wings on its back. Dragonite largely resembles a Charizard, as both have the same orange coloring, and the same blue underside of their wings, except for its lack of a flame on the end of their tails, and a somewhat rounder, and friendlier appearance.
Shiny Dragonite's main color is green while the inside of its wings are purple.
Dragonite resembles a proper looking European dragon, unlike its pre-evolved forms Dratini and Dragonair, which are more aligned towards Eastern ones.
Behavior
Most Dragonite are very friendly as well as selfless and will rescue anyone lost at sea. However, as shown in one episode, they will go on a rampage if their environment is harmed. They tend to battle Kingdra, their sworn rivals, in the wild.
Natural abilities
Dragonite are very swift and can circle the globe in just 16 hours.
Habitat
Dragonite are very rarely found near water bodies. Some claim that there is an island where only they live, which has only been seen only once.
Evolution
Dragonite evolves from Dragonair at level 55. It is the final form of Dratini.
Game info
Game locations
Pokédex entries
Stats
Dragonite's Stats
HP
Attack
Defense
Sp. Atk
Sp. Def
Speed
Total

600
Learnset
Leveling
TM/HM
Breeding
To see the Egg Moves that Dragonite can learn, refer to Dratini.
Tutoring
Sprites
Appearances
Anime
Main articles: Ash's Dragonite and Iris' Dragonite
Dragonite made its first appearance in the episode Mystery at the Lighthouse, where Bill was searching for it. It appeared during the last moments of the episode and was unusually large, making this Dragonite in particular a Giant Pokémon.
Dragonite have also made appearances in other episodes under the ownership of trainers including Lance and Drake. Lance's cousin, Clair also owns a Dragonite which originally belongs to the very first Gym Leader of Blackthorn City.
In The Mastermind of Mirage Pokémon, Professor Oak used his own Dragonite in battle against the Mirage Master.
Dragonite also made an appearance in Pokémon: The First Movie as Mewtwo's "postman" as it uses Dragonite to send the invitations out.
Iris has captured a Dragonite in Undella Town when one Dragonite caused all the blackout when its been injured during a battle with a Hydreigon, causing everyone to blame it on him when it was framed.
Ash caught a Dragonite in PJ010: A Test in Paradise! after he bonded with it as a Dragonair and it saved Ash from falling onto Team Rocket's Wailord after evolving from a Dragonair.
Manga
Trivia
Origin
Dragonite might be based on draconite, a mythical stone found in dragon heads that is pointy. This could also be shown on top of Dragonite's head as it has a pointy horn on top.
Dragonite may be based off either Japanese, European or Fairy Dragons (though the first Pokémon with the Fairy-Dragon type combo was actually Altaria's Mega Evolution). Its pre evolutions' Chinese origins remain rooted in its lore as a sea guardian. It heavily resembles dragons found in the artworks done by Utagawa Kuniyoshi, one of the last great masters of the Japanese ukiyo-e style woodblock print.
Etymology
Dragonite's name might be a combination of "dragon" and "knight". It may also be a pun on Draconite.
Dragonite's Japanese name, Kairyu, literally means "cheerful dragon". Kai may also come from Sea (Since both Cheerful and Sea are represented by the same sound), Kaiju (Monsters like Godzilla, which inspired its pseudo legendary successor Tyranitar) and Hakai (as it destroys everything when using Outrage).
Gallery
See also