Raise a Floppa - The Loop
Play Sound
Dracovish (ウオノラゴン, Uonoragon) is a Water/Dragon-type Fossil Pokémon introduced in Generation VIII.
Biology
Physiology
Dracovish is a hybrid of a fish and a dinosaur.
The fish head is blue with sharp teeth and two eyes with dashes for pupils. A red marking covers its forehead, which is surprisingly blue on its counterpart on Arctovish. It also has two fins.
The Draco part resembles the rear end of a green stegosaurus with red stripes and spikes. The part which is cut of from the torso is green and red.
Behavior
Apparently, after the two halves of the Fossils were fused to create it, Dracovish were believed to have strong jaws and legs which could run at 40 miles per hour, but its head can't breathe unless it was submerged in water. It is believed to go extinct when it over hunted its prey. However, these are likely false, as it is a Pokémon made from two different Fossils that each had their niches before going extinct.
Game info
Game locations
Pokédex entries
Sword

Powerful legs and jaws made it the apex predator of its time. Its own overhunting of its prey was what drove it to extinction.

Shield

Its mighty legs are capable of running at speeds exceeding 40 mph, but this Pokémon can't breathe unless it's underwater.
Stats
Base Stats

HP

Atk

Def

Sp. Atk

Sp. Def

Speed

Total
Learnset
By leveling up
By TM
By TR
By breeding
Dracovish learns no moves via breeding.
By tutoring
Sprites
Anime
Main article: Ash's Dracovish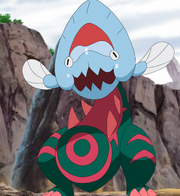 Dracovish made its debut in "A Pinch of This, a Pinch of That!", where it was restored from two different Fossils in the Wild Area. The Fossils were swapped during the restoration, which resulted in created Dracovish alongside Goh's Arctozolt. It was later caught by Ash after he befriended it.
Trivia
Dracovish, alongside the other Galar Fossil Pokémon are the first Fossil Pokémon that:

Cannot breed.
Lack the

Rock

-type.
Are revived from more than one fossil.
Are genderless.

Dracovish is tied with Arctozolt as the tallest of the Galar Fossil Pokémon. It is also the heaviest.
It's shiny bears resemblance to the asexual pride flag, perhaps referencing the fact attract does nothing to it and it cannot breed.
Origin
Dracovish appears to be based on the Crystal Palace Dinosaurs, a set of dinosaur skeletons that were misconstructed and are now deemed incorrect due to them either being mixes of more than one dinosaur or having incorrectly constructed skeletons altogether.
The head half is based on a Dunkleosteus while its tail half is based on a Dacentrurus or some other type of stegosaurid dinosaur. Dracovish's case of mashup seems to be taken from the Elasmosaurus, who originally accidentally had its skull fossil put on its tail end.
Dracovish (as well as the other Galar Fossil Pokémon) having the inability to breed may reference cross-bred or hybrid animals, which are born infertile (meaning they are unable to breed or have offspring).
Etymology
Dracovish comes from draco, which could come from the word draconic or could simply come from the Latin term for dragon, vicious and fish.
Gallery