The Dowsing Machine replaced the Itemfinder in Diamond/Pearl and Crystal until Omega Ruby and Alpha Sapphire and was later replaced by Stoutland Poké Ride. It is used to find hidden items that can't be seen.
Descriptions
Pokétch No: 07
Basic Info: "The Dowsing Machine app locates unseeable items."
Computer Info: The Dowsing Machine can find buried items for you. If an item is near you, it will respond when you touch the app.
Obtained
Obtainable from Prof. Rowan's kid (Dawn/Lucas) at Route 207. (Diamond/Pearl/Platinum)
Obtainable from a non playable character in Ecruteak City. (HeartGold/SoulSilver)
Obtainable from Bianca in Nacrene City. (Black/White)
Obtainable from a non-playable character on Route 8 - Muraille Coast. (X/Y)
Uses
This application serves the same purpose as an Itemfinder.
Tap on the screen to locate hidden items on the ground.
If there are items on the ground, spots on the screens blinked, locating the items from where you are standing.
The middle point is where you are standing (if the spots blink there, the hidden item is under you).
Press 'A' button when it is in front of you to pick up the hidden item.
You can find the key outside of Lake Valor Hotel and talk to the blondie outside her house.
In X & Y, the dowsing machine is a device that projects two rods when an item is near. When the rods cross and turn red, press 'A' to pick up your item.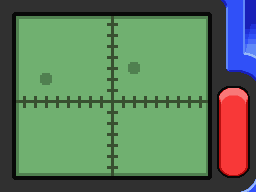 Community content is available under
CC-BY-SA
unless otherwise noted.