Fire Emblem Warriors: Three Hopes - The Loop
Play Sound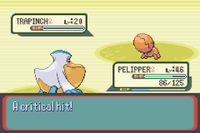 Critical Hit is a term that refers to an attack hitting "a weak spot". Such a hit causes twice the normal amount of damage. This is generally a random process. The games announce that a critical hit has landed by using the phrase, "A Critical Hit!"
Some moves, like Slash, have a higher chance of scoring a critical hit than others. There are also moves such as Focus Energy that cause an increase in the change of critical hits dealt by a Pokémon.  The chance of causing a critical hit can be modified by using items that increase the critical hit level. Although, some Pokémon have abilities that prevent the opponent from landing a critical hit. In Generation I, critical hits were based on speed.
Scope Lens and Razor Claw both add 1 level. Super Luck also adds 1 level. The Leek adds 2 levels for Farfetch'd, the Lucky Punch adds 2 levels for Chansey, and Focus Energy and Dire Hit add 2 levels to any Pokémon.
This article is a stub.
Please help the wiki by expanding it.