Fire Emblem Warriors: Three Hopes - The Loop
Play Sound
Cosmog (コスモッグ, Kosumoggu) is a psychic-type Legendary Pokémon introduced in Generation VII.
Biology
Physiology
Cosmog resembles a floating cloud colored in dark blue and purple. Two light-blue cloud-like formations stem upward from Cosmog's body and seem to be similar to a pair of arms. It has a gold crescent-shape around its body and its face is black with circular blue cheeks.
Behavior
As seen in Nebby, a wild Cosmog, it appears to be a curious and playful Pokémon. It also is overly trusting and naive, carelessly approaching even people who may not have the best intentions.
In the anime, Nebby is shown to have traits similar to newborns as it tends to cry and sleep a lot. Nebby is also shown to be a picky eater and only seems to eat konipeto.
Natural abilities
Under stress and pain, Cosmog can create Ultra Wormholes in an attempt to escape any potential tormentor(s).
Evolution
Cosmog evolves into Cosmoem, which evolves into a different Pokémon depending on the version of the game. If it evolves in Pokémon Sun, Ultra Sun or Sword, it will become Solgaleo; whereas if it evolves in Pokémon Moon, Ultra Moon, or Shield, it will become Lunala.
Game info
Locations
Pokédex entries
Sun

Its body is gaseous and frail. It slowly grows as it collects dust from the atmosphere.

Moon

In ages past, it was called the child of the stars. It's said to be a Pokémon from another world, but no specific details are known.

Ultra Sun

Even though its helpless, gaseous body can be blown away by the slightest breeze, it doesn't seem to care.

Ultra Moon

Whether or not it's a Pokémon from this world is a mystery. When it's in a jam, it warps away to a safe place to hide.

Sword

This Pokémon came from another universe. Its gaseous body is so light that even a gentle breeze can blow it away.

Shield

Cosmog is very curious but not very cautious, often placing itself in danger. If things start to look dicey, it teleports away.
Stats
Cosmog's Stats
HP
Attack
Defense
Sp. Atk
Sp. Def
Speed
Total

200
Learnset
Leveling
TM/HM
This Pokémon learns no moves via TM/HM.
Breeding
Cosmog learns no moves via breeding.
Tutoring
This Pokémon learns no moves by Tutoring.
Sprites
Appearances
In the anime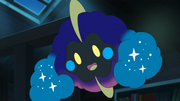 Main article: Nebby (anime)
In the manga
Main article: Nebby (Adventures)
Trivia
Along with Type: Null, Cosmog is the first Legendary Pokémon to have an evolution family.
Based on the event in the Altar of the Sunne/Moone it appears that Solgaleo and Lunala can "create" Cosmog together. Whether this is their method of reproduction is unknown.
Cosmog's models show it suspended in mid-air, but it can't have Levitate as an ability.
Cosmog is the lightest and smallest Legendary Pokémon.
Origin
Cosmog is based on a molecular cloud, a type of nebula. It may also be based on a water molecule (due to its body shape) and/or a ringed planet.
Etymology
Cosmog and its Japanese name, Kosumoggu, come from cosmo and fog or smog.
Names in other languages
English, Spanish, Italian: Cosmog
Gallery
Generation VII Pokémon
Other Pokémon:

Kanto

•

Johto

•

Hoenn

•

Sinnoh

•

Unova

•

Kalos

•

Galar