Fire Emblem Warriors: Three Hopes - The Loop
Play Sound
Cosmoem (コスモウム, Kosumoumu) is a Psychic-type Legendary Pokémon introduced in Generation VII. It is the evolved form of Cosmog and the pre-evolved form of Solgaleo (in Sun and Sword) and Lunala (in Moon and Shield).
Biology
Physiology
Cosmoem looks like an eye from outer space. It has a black 'pupil' with curves that look like resting eyes, and various pink and blue stripes across it. Around it, there is a dark purple, reflective, translucent shell with stars in it. Around this shell, along the sides and top of Cosmoem's body, is a gold outline, with smaller, similar shapes partly closing around the main body.
Behavior
It stays immobile in this entire stage, which makes the chances smaller for this Pokémon to evolve early.
Natural abilities
This section is completely EMPTY!
Please help the Pokémon Wiki by expanding it.
Evolution
Cosmoem is the evolved form of Cosmog. It evolves into Solgaleo (Sun, Ultra Sun and Sword) or Lunala (Moon, Ultra Moon and Shield) at level 53.
Game info
Locations
Pokédex entries
Sun

Motionless as if dead, its body is faintly warm to the touch. In the distant past, it was called the cocoon of the stars.

Moon

There's something accumulating around the black core within its hard shell. People think this Pokémon may come from another world.

Ultra Sun

The king who ruled Alola in times of antiquity called it the "cocoon of the stars" and built an altar to worship it.

Ultra Moon

As it absorbs light, Cosmoem continues to grow. Its golden shell is surprisingly solid.

Sword

The absorption of starlight fuels this Pokémon's growth. The shell that encases it is harder than any known material.

Shield

It sucks in dust from the air at an astounding rate, frantically building up energy within its core as preparation for evolution.
Stats
Cosmoem's Stats
HP
Attack
Defense
Sp. Atk
Sp. Def
Speed
Total

400
Learnset
Leveling
TM/HM
This Pokémon learns no moves via TM/HM.
Breeding
Cosmoem learns no moves via breeding.
Tutoring
This Pokémon learns no moves by Tutoring.
Tutoring

Generation VII

Move
Power
Accuracy
PP
Type
Category
Bold indicates this Pokémon receives STAB from this move.
Italic indicates an evolved or alternate form of this Pokémon receives STAB from this move.
Sprites
Appearances
In the anime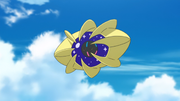 Main article: Nebby (anime)
Trivia
Origin
Cosmoem is based on a protostar. Its immense weight, despite its minuscule size, may be a reference to incredibly dense neutron stars. Its appearance may also be inspired by an eye, as well as an egg. Its shell also appears similar to a sun and a moon, possibly referencing its evolution into either Solgaleo, a Pokémon associated with the Sun, or Lunala, a Pokémon associated with the Moon.
Etymology
Cosmoem comes from cosmo and embryo or ovum (egg).
Its Japanese name, Kosumōmu, likely comes from cosmic, womb, SuMo (the abbreviation of Sun and Moon), mom, and ovum.
Names in other languages
English/Spanish/Italian: Cosmoem
Japanese:

コスモウム

(officially romanized as "Cosmovum")
Korean: 코스모움
Chinese: 科斯莫姆
Gallery
Generation VII Pokémon
Other Pokémon:

Kanto

•

Johto

•

Hoenn

•

Sinnoh

•

Unova

•

Kalos

•

Galar