Raise a Floppa - The Loop
Play Sound
Comfey (キュワワー, Kyuwawaa) is a fairy-type Pokémon introduced in Generation VII.
Biology
Physiology
This section is completely EMPTY!
Please help the Pokémon Wiki by expanding it.
Behavior
After they pick up flowers, Comfey use them to make garlands. When they have a favorable impression on a person, they will give one of their garlands to him or her.
On occasions, two of them or more can get tangled up with each other when sleeping side by side mentioned in SM046.
Natural abilities
Game info
Locations
Pokédex entries
Sun

It attaches flowers to its highly nutritious vine. This revitalizes the flowers, and they give off an aromatic scent.

Moon

Baths prepared with the flowers from its vine have a relaxing effect, so this Pokémon is a hit with many people.

Ultra Sun

It stretches sticky vines out from its head and picks flowers to adorn itself with. When it doesn't have any flowers, it feels uneasy.

Ultra Moon

It picks flowers and sticks them to its body with fluids it produces. The aroma that wafts from its petals has a healing effect.

Sword

Comfey picks flowers with its vine and decorates itself with them. For some reason, flowers won't wither once they're attached to a Comfey.

Shield

These Pokémon smell very nice. All Comfey wear different flowers, so each of these Pokémon has its own individual scent.
Stats
Comfey's Stats
HP
Attack
Defense
Sp. Atk
Sp. Def
Speed
Total

485
Learnset
Leveling
TM
Breeding
Breeding

Generation VII

Move
Father
Power
Accuracy
PP
Type
Category
After You
Maractus
—
—%
15

Normal

Status

Amnesia *
Bulbasaur, Tangela, Hoppip, Seedot, Turtwig, Morelull
—
—%
20

Psychic

Status

Endure *
Bulbasaur, Paras, Hoppip, Sunkern, Foongus
—
—%
10

Normal

Status

Lucky Chant
Oddish, Gloom, Cherubi, Cherrim
—
—%
30

Normal

Status

Bold indicates this Pokémon receives STAB from this move.
Italic indicates an evolved or alternate form of this Pokémon receives STAB from this move.
* indicates this move requires chain breeding.
◊ indicates the father must learn this move in a previous generation.
♈ indicates the father must learn this move via a TM.
Tutoring
Sprites
Anime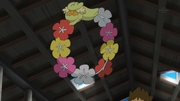 In addition to Blissey, all Nurse Joys in Alola use a Comfey.
Trivia
Although most Comfey float with garland on their hands, the anime shows that they can fly without holding garlands.
Comfey is the only pure Fairy type introduced in Generation VII.
Similar to the Gothita family, Comfey looks feminine but there are actually a small ratio of males among the species.
Origin
Comfey is based on a magical flower garland, specifically a lei, a common garland in Hawaiian culture that is often decorated with beautiful flowers. In modern day, leis are often given as gifts as a sign of peace and friendship, possibly tying in to Comfey's healing properties.
Etymology
Comfey comes from comfy, lei, comfrey (a genus of flowering plants) and fey (another name for fairies, possibly being the inspiration for its Fairy-type).
Its Japanese name, Cuwawa, is a combination of cure, 輪 wa (ring), and フラワー furawā (flower).
Names in other languages
English, Spanish, and Italian: Comfey
Chinese: 花療環環
French: Guérilande
German: Curelei
Gallery