Roblox: DeepWoken - The Loop
Play Sound
Chewtle (カムカメ Kamukame) is a water-type introduced in Generation VIII. It evolves into Drednaw at level 22.
Biology
Physiology
Chewtle is a small Pokemon that resembles a baby turtle. It has light green skin with orange spiked head and cheeks. Like any turtle, Chewtle has shell with the top half dark green, the bottom half beige, and the brown line between them. It also has a single upper tooth that it teethes with. It has small black eyes with a thin unibrow.
This section is completely EMPTY!
Please help the Pokémon Wiki by expanding it.
Behavior
This section is completely EMPTY!
Please help the Pokémon Wiki by expanding it.
Game info
Game locations
Locations
Version(s)
Area(s)
Rarity
Sword and Shield
Route 2, Route 4, Route 5, Galar Mine No. 2, Giant's Cap, Giant's Mirror, Hulbury, Motostoke, Motostoke Outskirts, Motostoke Riverbank

---

Max Raid Battle: Bridge Field, Dusty Bowl, East Lake Axewell, Giant's Cap, Giant's Mirror, Lake of Outrage, South Lake Miloch, West Lake Axewell
Common
Pokédex entries
Sword

Apparently the itch of its teething impels it to snap its jaws at anything in front of it.

Shield

It starts off battles by attacking with its rock-hard horn, but as soon as the opponent flinches, this Pokémon bites down and never lets go.
Stats
Base Stats

HP

Atk

Def

Sp. Atk

Sp. Def

Speed

Total
Learnset
By leveling up
By TM
By TR
By breeding
Template:Movesbreedingen d
By tutoring
Chewtle learns no moves via tutoring.
Sprites
Anime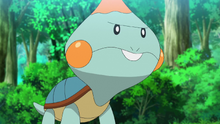 Main article: Team Rocket's Chewtle
Chewtle debuted in The Climb to Be the Very Best!. It was found on Wyndon, where it bit Jessie's hair harmlessly in the morning. Team Rocket eventually kept Chewtle as a lucky catch and a present for their boss Giovanni, because not only it attracted to them, but also has a potential to evolve into a Drednaw, then Gigantamaxing like the previous Drednaw they failed to catch yesterday night before it.
Trivia
Origin
Chewtle is likely based on a baby snapping turtle.
Etymology
Chewtle is a combination of chew, turtle, and possibly brutal.
Gallery