World of Warcraft: Dragonflight - The Loop
Play Sound
Castelia City is a sprawling city in the southern part of Unova with countless skyscrapers piercing the clouds, several piers which contain many boats. It is the largest city in the Unova region and one of the most populated city overall.
This city is home to a Gym, the Battle Company, and the GAME FREAK tower.
When traveling through Castelia City, the camera will zoom in and out, and when leaving, the camera will show Castelia City from a distance.
Streets
Unnamed Oceanside Street - The street overlooking the ocean houses and the Pokémon Center in the east. Further along one will see the Battle Company building, where the employees are waiting to challenge the player character. Also on this road is the Passerby Analytics HQ; if the player character pops in they'll give more surveys for the player character's C-Gear.
Castelia Street - The Unova GAME FREAK Headquarters are located here, where one can meet the game director and a few other developers. One of the game designers will challenge to a match after the player character has defeated the Elite Four. In the building opposite the GAMEFREAK HQ, a lady will give the player character's Pokémon a massage, making it more friendly.
Central Plaza - Has a grand fountain. When the player character finds the three dancers around the city, they'll be here.
Mode Street - The famous Casteliacone is sold here, but as it's extremely popular it's sold out every day apart from Tuesday; You have to go early on Tuesday mornings to obtain it, and only once a day. In Studio Castelia, an art gallery, a harlequin will give a berry if the player character shows him a Pokémon of the correct type.
Unnamed Gym Street - The Castelia City Gym is here, with Team Plasma's secret HQ in the building opposite.
Piers and Dock
The boats docked here can take to areas otherwise inaccessible.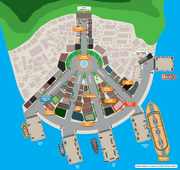 Demographics
Castelia City has a population of 127 which makes it the fourth most populous city in the Pokémon world, after Nimbasa City, Galar's Wyndon and Kalos' Lumiose City.
Gym
Main article: Castelia City Gym
Castelia Gym Leader

Insect Badge
TM76 (Struggle Bug)

Burgh

Whirlipede
Level 21


Dwebble
Level 21


Leavanny
Level 23

Castelia Gym Leader

Insect Badge
TM76 (Struggle Bug)

Burgh

Swadloon
Level 22


Dwebble
Level 22


Leavanny
Level 24

Trainers
Rival
Team Plasma
Battle Company
Items
Appearances
Anime
Black and White
Ash, Iris and Cilan arrive at Castelia City for Ash's 3rd Unova Gym badge when they soon come across a swarm of Venipede who were startled by activity in the Desert Resort.
Journeys
Ash and Goh arrive there in "A Close Call... Practically!" through Goh's prize from the eating contest in the previous episode. Lucario and Cinderace chased after Team Rocket who had taken "Pikachu" throughout the city.
Trivia