Fire Emblem Warriors: Three Hopes - The Loop
Play Sound
Butterfree (Japanese: バタフリー Batafurii) is a Bug/Flying-type Pokémon introduced in Generation I. It has a Gigantamax form.
Biology
Physiology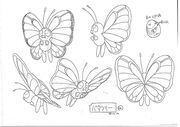 Butterfree is an insect-like Pokémon appearing as a large butterfly. Butterfree has a large purple body with light blue limbs and a nose with very small fangs. Its eyes are quite large in proportion to its head and are a red color. Butterfree's large wings simply appear as black and white butterfly wings.
Gigantamax Butterfree
In its Gigantamax form, Bufferfree's body has a larger frame with red glowing eyes. It sports a giant set of wings with glowing teal patterns on them. A fur-like pattern is attached to its wings and back. Its antennae changes from black to light green and, like other dynamaxed Pokémon, are surrounded by red clouds.
Gender differences
The gender difference is the female has purple on the bottom of its wings and the male doesn't have them.
Behavior
Butterfree consume honey from flowers and are excellent at detecting sources of it. They can trace minutes amounts of pollen back to flower patches, where they then feast on honey and nectar. Using the hairs on their legs, Butterfree are also able to carry the sticky substance back to their nests. They often fly as far as 6 miles (10 kilometers) to find nectar in blooming flowers.
Because of their water-resistant wings, Butterfree can often be found fluttering about in the misty upper levels of rainforests. However, the high moisture is not necessary for their survival; they are simply highly tolerant of it, so they are also found in drier forests as well, often flying in small swarms to search out locations where honey is abundant. They sometimes compete with Cutiefly for territory.
Natural abilities
Regular Butterfree have the ability Compound Eyes which raises its accuracy rating by 30%. Outside of battle, Compound eyes will raise the chances of finding a Pokémon with an item if the user is in the lead slot of the party.
Butterfree befriended within the Dream World have the Tinted Lens ability, which doubles the power of "not very effective" moves.
In battle, it flaps its wings at high speed to release highly toxic dust into the air. Its wings are very helpful in spreading the Poisonpowder and Stun Spore.
Evolution
Butterfree evolves from Metapod at level 10 and is the final evolution of Caterpie.
Game info
Locations
Locations
Version(s)
Area(s)
Rarity
Red and Blue
Evolve Metapod
None
Yellow
Evolve Metapod
None
Gold and Silver
Bug-Catching Contest, National Park
Route 2, Trees(

Silver

only)
Uncommon (Gold)
Rare (Silver)
Crystal
Bug-Catching Contest, National Park, Route 2, 24, 25, Trees
Uncommon
Ruby and Sapphire
Trade
None
FireRed and LeafGreen
Evolve Metapod
None
Emerald
Trade
None
Diamond and Pearl
Evolve Metapod
None
Platinum
Evolve Metapod
None
HeartGold and SoulSilver
Route 2, Bug-Catching Contest, Viridian Forest, Headbutt trees
Rare
Black and White
Trade (Black only)
Route 12 (White only)
Rare
Black 2 and White 2
Trade (Black 2 only)
Hidden Grotto - Pinwheel Forest (White 2 only)
Rare
X and Y
Evolve Metapod
None
Omega Ruby and Alpha Sapphire
Trade
None
Sun and Moon
Alola Route 5, Lush Jungle (SOS only), Melemele Meadow
Common
Ultra Sun and Ultra Moon
Melemele Meadow, Lush Jungle (SOS only), Route 5
Common
Let's Go, Pikachu! and Let's Go, Eevee!
Viridian Forest, Evolve Metapod
Common
Sword and Shield
East Lake Axewell, Giant's Mirror, Rolling Fields, Slumbering Weald


Max Raid Battles: Bridge Field, Dappled Grove, East Lake Axewell, Giant's Cap, Hammerlocke Hills, Rolling Fields, South Lake Miloch
Gigantamax Raid Battles: Rolling Fields

Common
Spin-off game locations
Pokédex entries
Stats
Learnset
By leveling up
By TM/HM
By TR
By breeding
Butterfree learns no moves via breeding.
By tutoring
Sprites
Appearances
Anime
Main
Supporting
Minor
Trivia
Origin
Butterfree vaguely resembles the Inachis io butterfly. However, its wings are white instead of colored.
Its design also appears to be based on the Black-veined White butterfly.
Its Gigantamax form could be based on the Mothra kaiju.
Etymology
"Butterfree" is a portmanteau of the words "butterfly" and "free".
Gallery
See also