World of Warcraft: Dragonflight - The Loop
Play Sound
Bruxish (ハギギシリ, Hagigishiri) is a water/psychic-type Pokémon introduced in Generation VII.
Biology
Physiology
Bruxish is a fish-like Pokémon with tropical colors on its body and sharp teeth.
Behavior
Bruxish dig holes into the sand in the waters of warm coral reefs. They bury themselves and leave only their knobby protuberances exposed. These growths emit low levels of psychokinetic energy that allow Bruxish to sense living things around them, functioning much like radars. When they detect prey, they unearth themselves and attack. Bruxish then stun their victims with psychokinesis before using their hard teeth to grind away. When they molar their teeth, other Pokémon will know that is a hint of danger and flee away.
Their thick skin additionally keeps them safe from the latter, making them keystone predators in Corsola reefs as they regulate Mareanie populations.
Natural abilities
When Bruxish emit psychic powers, their protuberances "bloom" and resemble flowers. Exposure to their abilities can cause headaches and eventually fainting. Their teeth are strong enough to pulverize the shells and spikes of Shellder and Mareanie. They also have a very thick skin.
Game info
Locations
Pokédex entries
Sun

When it unleashes its psychic power from the protuberance on its head, the grating sound of grinding teeth echoes through the area.

Moon

It stuns its prey with psychokinesis and then grinds them to mush with its strong teeth. Even Shellder's shell is no match for it.

Ultra Sun

It burrows beneath the sand, radiating psychic power from the protuberance on its head. It waits for prey as it surveys the area.

Ultra Moon

Its skin is thick enough to fend off Mareanie's spikes. With its robust teeth, Bruxish crunches up the spikes and eats them.
Stats
Bruxish's Stats
HP
Attack
Defense
Sp. Atk
Sp. Def
Speed
Total

475
Learnset
Leveling
TM
Breeding
Breeding

Generation VII

Move
Father
Power
Accuracy
PP
Type
Category
Ice Fang
Gyarados, Carvanha, Sharpedo
65
95%
15

Ice

Physical

Poison Fang
Carvanha, Sharpedo
50
100%
15

Poison

Physical

Rage
Carvanha, Sharpedo
20
100%
20

Normal

Physical

Water Pulse
Goldeen, Seaking, Remoraid, Wailmer, Wailord, Barboach, Whiscash, Luvdisc, Finneon, Lumineon, Alomomola
60
100%
20

Water

Special

Bold indicates this Pokémon receives STAB from this move.
Italic indicates an evolved or alternate form of this Pokémon receives STAB from this move.
* indicates this move requires chain breeding.
◊ indicates the father must learn this move in a previous generation.
♈ indicates the father must learn this move via a TM.
Tutoring
Sprites
Appearances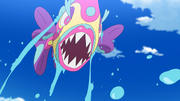 Trivia
Bruxish is the only Water/Psychic Pokémon whose name does not start with the letter 'S'.
Origin
Bruxish is based on a Picasso triggerfish (humuhumunukunukuapua'a in Hawaiian), the state fish of Hawaii, with it having similar bright colors and the same sharp teeth. Bruxish being a Psychic-type may refer to the fact that art (as it's based on the Picasso triggerfish) is often considered an intellectual field or may refer to its bright, psychedelic colors.
Etymology
Bruxish comes from bruxism (the act of gnashing teeth) and fish.
Names in other languages
Gallery