For the variant appearing in the game, see Brock (Masters).
This article using an out-of-date infobox.
Please change it to the newer version
Brock is a character that appears in Pokémon Masters Animated Trailer. He is the Gym Leader of Pewter City in the Kanto region and gives trainers who defeat him the Boulder Badge.
Biography
This section is completely EMPTY!
Please help the Pokémon Wiki by expanding it.
Pokémon
On hand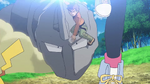 Onix *
See also