Brionne (オシャマリ Oshamari) is a Water-type Pokémon introduced in Sun and Moon. It is the first evolved form of Popplio. It evolves into Primarina. Along with Dartrix and Torracat.
Biology
Physiology
Brionne is a light blue seal like Pokémon. It has three frill-like growths around its body that resembles a ballerina tutu. It starts under the front flippers and stops at its tail. It alternative white and pale blue. Its long ears are comprised of three sections that lighten and increased in size towards the tip; the primary portion is ovoid, while the last two are circular. It has a long conical shaped nose with a round pink nose and large eyes with pink pupils. Its front flippers are longer than its tail and they both have white tips. It has three black digits on the front flippers.
Behavior
Brionne usually learns its dance moves from other colony members or even humans, and will pay all its effort practicing its skills until it can memorize them. It uses them in battle to disarray the opponent before attacking it. Sometimes, in nights with the moon high up in the sky, you can see a lot of Brionne dancing together under the shining moonlight.
Also, Brionne mostly smiles and won't show a sad face to others unless it trusts its Trainer and Pokémon friends.
Natural abilities
Bionne can create balloons while dancing. In battles, it usually distracts its opponents with its dance and using its water balloons to attack them.
Evolution
Brionne is the evolved form of Popplio as of level 17. It evolves into Primarina at level 34.
Game info
Locations
Pokédex entries
Stats
Base Stats
HP
Attack
Defense
Sp. Atk
Sp. Def
Speed
Total

420
Learnset
Leveling
TM
Breeding
To see the Egg Moves that Brionne can learn, refer to Popplio.
Tutoring
Sprites
Appearances
Anime
Main article: Lana's Primarina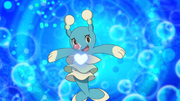 Brionne first appeared in Balloons, Brionne, and Belligerence! under the ownership of Ida and later evolves into Primarina offscreen prior to Evolving Research!.
Lana also owns a Brionne that evolved from Popplio in Evlving Research! It later evolves into Primarina in The One That Didn't Get Away!.
Trivia
Origin
Brionne is based on a circus performing sea lion and possibly a ballerina, with folds around its body that resemble a tutu. It also resembles a clown, with its round nose.
Etymology
"Brionne" comes from brine (salty water), "brio", an Italian word meaning liveliness that describes a lively style of performance, and possibly undine, or ondine, a type of mermaid or sea nymph.
Gallery