Fire Emblem Warriors: Three Hopes - The Loop
Play Sound
Braviary (Japanese: ウォーグル Wooguru) is a Normal/Flying-type Pokémon introduced in Generation V. It is Mandibuzz's male counterpart.
It has a Psychic/Flying-type Hisuian form introduced in Generation VIII.
Biology
Physiology
Unovan
Braviary is a large birdlike Pokémon that resembles a bald eagle. The top part of its body is red, while its underside is deep blue. It has large, magnificent wings and a feathery white and red crest atop its head and encircling its face. It has a sharp yellow beak and round eyes with dark pupils. Braviary has a long red tail that is striped yellow and blue at the tip, as well as having very strong legs and large, sharp yellow talons with black claws.
Hisuian
Hisuian Braviary's appearance is slightly changed. It has a grey and white feathered body. Braviary's tail is now shaped like a jet. The wings are shaped to resemble a white hand with black feathers underneath. The head feather is shaped like a hat. The plume have changed into purple flames with a light blue eye markings on them.
Braviary is a male-only species of Pokémon. Mandibuzz is its female counterpart.
Behavior
Unovan
Braviary are extremely valiant, loyal, and courageous. They will fight for their friends, no matter what the danger. They will also not stop battling, even if greatly injured. In fact, there was history of them banding together to retaliate against humans who disturbed their habitats. The more scars they bear from battles, the more respect they get from their kind. They are therefore called "brave soldiers of the sky". However, only ones with scars at their fronts are respected, whereas the ones who have wounds on their backs are spurned.
Braviary are known for their bravery and pride and as such have been a national symbol for many emblems as well. However, Braviary also have a wild and hotheaded temperament and thus are not used as transportation in the Galar region.
Hisuian
Hisuian Braviary travel to Hisui during the winter season. They prefer to live alone instead of flocks. To hunt, they scan far below the murky surface of estuaries for prey, deeper than vision can penetrate, then they blast lakes with shockwaves and scoop prey that float to the water surface. Before these Pokémon leave their nests to hunt, they let loose eerie, bloodcurdling screeches that can be heard for miles. Hisuians used to say that these sounds where the cries of angry spirits who died in austere winters. Hisuian Braviary are even more solitary than their relatives, only meeting to mate; their barren habitats do not provide sufficient resources for cooperation.
Natural abilities
Braviary are incredibly strong, capable of lifting a single automobile in flight.
Hisuian Braviary can use their psychic powers to unleash eerie screeches capable of generating shock waves, then use their talons to grab and rip apart prey. They can also enter a trance using their psychic powers in order to heighten sixth sense and physical power boost.
Evolution
Braviary evolves from Rufflet at level 54.
Game Info
Game Locations
Pokédex Entries
Stats
Stats
Learnset
Leveling
TM/HM
Breeding
To see the Egg Moves that Braviary can learn, refer to Rufflet.
Tutoring
Sprites
Appearances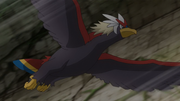 Anime
Supporting
Minor
Trivia
Braviary was revealed in the August issue of CoroCoro along with six other Pokémon on July 11, 2010.
Before being revealed that the Unova region was based on America, many Pokémon fans considered Braviary's bald eagle-esque appearance as evidence that the games were based there.
Braviary is August in the Pokémon Horoscope, the same date as the CoroCoro issue it was revealed in.
The Pokédex entry in Pokémon Moon is a reference to how real-world bald eagles were once critically endangered but were recovered.

Although the Pokédex entry said people directly disturbed its habitat, in real life, the bald eagle population was dropping due to them ingesting pesticides from fish, which caused their eggshells to be too thin and thus making them break. Also, the entry claims that they worked together to fight back, however in real life the bald eagle population was recovered due to human effort, though this section may be a reference to the United States considering Braviary's American theme.

Braviary shares some similarities with Mandibuzz:

Both are based on a species of birds of prey (Braviary is based on an eagle while Mandibuzz is based on a vulture or condor)
Both are version exclusives (Braviary is exclusive to White, White 2, Sun, Ultra Sun, and Sword while Mandibuzz is exclusive to Black, Black 2 Moon, Ultra Moon, and Shield).
Both evolve from their respective pre-evolved form at level 54.
They are deemed counterparts is most likely to reflect how Braviary represents Native Americans and Mandibuzz represents Prehistoric Americans.

Braviary is the first male-only Pokémon to get a regional form, and the first single-gender Pokémon to get a regional form overall.
Origin
Braviary is most likely based on a Bald Eagle, one of the national symbols of the United States, or a Golden Eagle. Its color palette also consists of red, white, and blue referencing the American Flag and concept of Unova (Unova is based on New York and is the first mainline Pokémon region based on an area in the U.S.)
As opposed to Mandibuzz's influence being on pre-historic America, Braviary seems to be based off the influence of modern America. The feathers on its head also represent Native American headdresses, which may relate to how war bonnets created by Native Americans were largely made using eagle feathers as decoration due to being seen as a mighty bird. The combination of elements from both Native American cultures and the European origins of many of the U.S.'s founders may relate to the American ideal of being a place where people from multiple cultures can live together in harmony.
Hisuin Braviary is based on the Steller's sea eagle, an eagle that migrates to Hokkaido (the location Hisui is based on) during the winter season and is also one of the largest sea eagles. Braviary is also described as migrating to the Hisui region from the north during winter time. It may also be based on the Papuan eagle, which also has a larger size but also sports a notable feather crest on its head.
Etymology
Braviary comes from "brave" (possibly meaning courage or having to do with Native American Braves or warriors) and "aviary" (a large cage, house, or enclosure in which birds are kept).
Braviary's Japanese name, Uōguru, is derived from "war" (either because it's a valiant fighter or because America and Americans are often stereotyped as being obsessed with war and their military) and "eagle".
Gallery
See also