Fire Emblem Warriors: Three Hopes - The Loop
Play Sound
Bounsweet (アマカジ, Amakaji) is a grass-type Pokémon introduced in Generation VII.
Biology
Physiology
Bounsweet is a small, round Pokémon that can only be female. It has yellow eyes, a magenta-colored body, and a skirt-like design that is colored white. It also has three large green leaves on its head and no arms.
Behavior
Bounsweet produce a sweet aroma that makes them the prey of many bird Pokémon, though they are usually too unintelligent to care. When under attack, they often exude more of the aroma through the form of sweat, which draws more enemies to them, or rotate the calyx on their heads, which makes them dizzy. They have also been known to flee, but the way they skip and amble about doesn't adequately show their fear, ensuring that nothing ever comes to their aid.
Natural abilities
Bounsweet have the ability to exude a fragrance that has a calming effect on people. They also have the ability to drive off some predators by rotating the calyx on their heads, though it's usually a fruitless attempt. They can also use their calyx similarly to a propeller, being able to fly slightly above the ground.
Their sweat can be edible and can be used as a refreshing fruit juice for humans if being slightly diluted with water.
Evolution
It evolves into Steenee starting at level 18, which evolves into Tsareena by leveling up while knowing the move Stomp.
Game info
Locations
Pokédex entries
Sun

A delectable aroma pours from its body. They are often swallowed whole by Toucannon lured by that wafting deliciousness.

Moon

Although it's too sugary for human consumption, Bounsweet's sweat can be watered down into a juice with just the right amount of sweetness.

Ultra Sun

Because of its sweet, delicious aroma, bird Pokémon are always after it, but it's not intelligent enough to care.

Ultra Moon

It tries to resist being swallowed by a bird Pokémon by spinning the sepals on its head. It's usually a fruitless attempt.

Sword

Its body gives off a sweet, fruity scent that is extremely appetizing to bird Pokémon.

Shield

When under attack, it secretes a sweet and delicious sweat. The scent only calls more enemies to it.
Stats
Bounsweet's Stats
HP
Attack
Defense
Sp. Atk
Sp. Def
Speed
Total

210
Learnset
Leveling
TM
Breeding
Breeding

Generation VII

Move
Father
Power
Accuracy
PP
Type
Category
Acupressure
Maractus
—
—%
30

Normal

Status

Charm
Cottonee
—
100%
20

Fairy

Status

Feint
Breloom
30
100%
10

Normal

Physical

Grass Whistle
Sunkern, Sunflora, Roselia, Snover, Abomasnow
—
55%
15

Grass

Status

Play Rough
Comfey
90
90%
10

Fairy

Physical

Synthesis
Bulbasaur, Ivysaur, Venusaur, Chikorita, Bayleef, Meganium, Hoppip, Skiploom, Jumpluff, Sunkern, Seedot, Roselia, Tropius, Turtwig, Grotle, Torterra, Maractus, Foongus, Amoonguss, Fomantis, Lurantis, Comfey
—
—%
5

Grass

Status

Bold indicates this Pokémon receives STAB from this move.
Italic indicates an evolved or alternate form of this Pokémon receives STAB from this move.
* indicates this move requires chain breeding.
◊ indicates the father must learn this move in a previous generation.
♈ indicates the father must learn this move via a TM.
Tutoring
Sprites
Appearances
Anime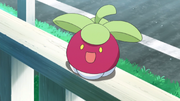 Main article: Mallow's Bounsweet
Mallow owns a Bounsweet where it later evolves in Steenee and then later, a Tsareena.
Trivia
Origin
Bounsweet is based on the mangosteen fruit while also taking elements from a baby, as its underside not only resembles the white flesh of a mangosteen fruit, but also resembles a diaper. The fact that the whole line is all female is based on the fact that mangosteen plants only have female flowers.
Etymology
Bounsweet is a combination of bound, bounce, and sweet.
Its Japanese name, Amakaji, is a combination of 甘い amai (sweet), 果実 kajitsu (fruit) and 児 ji (child).
Names in other languages
English, Spanish, and Italian: Bounsweet
Chinese: 甜竹竹 (sweet mangosteen)
French: Croquine
German: Frubberl
Gallery
Generation VII Pokémon
Other Pokémon:

Kanto

•

Johto

•

Hoenn

•

Sinnoh

•

Unova

•

Kalos

•

Galar