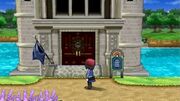 The Battle Chateau, one of the battling facilities in Kalos, is a mansion situated on top of a river on Kalos Route 7.
Rankings
White capes for Baron and Baroness
Blue capes for Viscount and Viscountess
Green capes for Earl and Countess
Yellow capes for Marquis and Marchioness
Red capes for Duke and Duchess
Purple capes for Grand Duke and Grand Duchess
Features
The Battle Chateau features rematch battles against Gym Leaders, the Elite Four and the Champion.
Calem/Serena is greeted by Viola, who talks one of the servants of the Battle Chateau into giving them a beginner's noblity rank. Battling other nobles who show up (either on their own or because of Writ being sent out to invite them for battles), Calem/Serena can raise his/her rank through countless battles.
In the anime
The Battle Chateau appeared in Breaking Titles at the Chateau!.
Gallery
Community content is available under
CC-BY-SA
unless otherwise noted.