This Dracovish is a Water/Dragon-type Pokémon who is owned by Ash Ketchum. It is the second Pokémon he caught in the Galar region, the fifth Pokémon he caught during his journey around the world and his very first Fossil Pokémon.
Personality
Dracovish seems to have a habit of biting/nibbling peoples' heads, much like Ash's Gible and Ash's Torterra when it was a Turtwig, and James's Victreebel. Dracovish also appears to enjoy playing in places with where there is a lot of water to swim in. Dracovish is also helpful towards its friends. Despite its often playful demeanor, it is known to be quite helpful in some tough situations and will often use strong moves when unprompted to such as when it used Fishious Rend to save Chloe and several Pokémon from a sea cave [1] and when it used Ice Fang to defeat Iris' Dragonite almost instantly.[2]
Relationships
Ash
Dracovish gets along well with Ash affectionately biting/nibbling his head the first time they meet and they also compete in the Pokémon Water Obstacle Course and manage to win.
Dracovish's Teammates
Pikachu
This section is completely EMPTY!
Please help the Pokémon Wiki by expanding it.
Dragonite
This section is completely EMPTY!
Please help the Pokémon Wiki by expanding it.
Gengar
This section is completely EMPTY!
Please help the Pokémon Wiki by expanding it.
Lucario
This section is completely EMPTY!
Please help the Pokémon Wiki by expanding it.
Sirfetch'd
This section is completely EMPTY!
Please help the Pokémon Wiki by expanding it.
Biography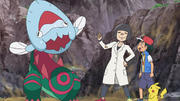 Dracovish and Arctozolt were resurrected by Cara Liss and Gasattsu when they intended to make a Dracozolt and an Arctovish, but the fossils were mixed up in the restoration process. When Ash attempted to tame Dracovish, it tried to bite his head off and started chasing him and his Pikachu. During the chase, it used Water Gun, which hit neither Ash nor Pikachu, but Arctozolt.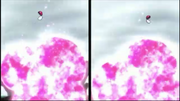 Ash and Pikachu were later seen riding on its back. It drove Ash and Pikachu into a lake, due to its need of water. Later, it rushed back to where the Fossil-restoring duo was, attacking the rampaging Arctozolt from its back. When both Fossil Pokémon were successfully tamed by Ash and Goh, they caught Dracovish and Arctozolt respectively and introduced them to Pokémon in the Cerise Laboratory.[3]
Dracovish was later seen in a fantasy as the narrator explains Ash's progress in the World Coronation Series.[4]
Dracovish was then later seen practicing for the Marine Pokémon Obstacle Course along with his trainer, Goh and his Dewgong and Chloe and her Eevee. Dracovish was training with its friends for the competition while getting help from Kairi and his Vaporeon. The next day at the competition, Dracovish participated in the race with Ash and managed to finish in first place. However, after the race, Dracovish, Ash and Goh suddenly noticed that Chloe, Eevee and Dewgong are missing and they must go look for them. They found them after they were being chased by a Huntail who trapped them in a sea cave with Rock Tomb. Luckily, Dracovish broke them free with its Fishious Rend attack and Chloe's Eevee defeated Huntail with the help of Kairi and his Vaporeon.[1]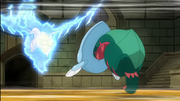 Dracovish was brought out in a World Coronation Series match against Iris in the Unova region, where it battled her Dragonite after switching places with Ash's Dragonite. Dracovish was able to defeat Iris' Dragonite by catching it in its jaws with Fishious Rend while also using Ice Fang in close contact. However, Dracovish then went up against Iris' Haxorus, where Dracovish end up losing to it with Haxorus' Dragon Pulse and Psycho Cut.[2]
Dracovish was used too put out a fire alongside Goh's Inteleon and Krabby that a group of wild Larvesta caused by using Water Gun but doesn't seem to be having much effort though they try harder to keep putting it out.[5]
Known moves
Trivia
Dracovish is the first of Ash's Pokémon to:
Dracovish, along with Dragonite are the first of Ash's Pokémon to battle and defeat a regional Pokémon Champion and their Pokémon. Both Dracovish and Dragonite battle Iris (who became the Unova Pokémon Champion) and her Dragonite and Haxorus and defeated them with Ash's Dracovish defeating Iris' Dragonite and Ash's Dragonite defeating Iris' Haxorus.
Gallery
References
Ash's Pokémon
In rotation
Traveling with
At Oak's Lab
At Kukui's house
At Cerise Laboratory
In training
Released
Traded away
Given away
Traveled with
Ride Pokémon
Temporary
Befriended
Ash Ketchum