Aerodactyl (Japanese: プテラ Putera) is a Rock/Flying-type Fossil Pokémon introduced in Generation I that is resurrected from an Old Amber fossil.
Biology
Physiology
Aerodactyl is a pterosaur-like Pokémon. It has an arrowhead-shaped point at the tip of its tail, a cone-shaped spike on its back, purplish-gray skin, and a lower jaw full of sharp teeth.
Behavior
Aerodactyl has a vicious temperament and flies without fear through the sky. It is said that Aerodactyl ruled the skies in its ancient world. When incensed, it can use its extremely sharp and serrated saw blade-like teeth to attack.
Game info
Game locations
Side game locations
Pokédex entries
Stats
Aerodactyl's Stats
HP
Attack
Defense
Sp. Atk
Sp. Def
Speed
Total

515
Aerodactyl's Stats
HP
Attack
Defense
Sp. Atk
Sp. Def
Speed
Total

615
Learnset
Leveling
TM/HM
Breeding
Tutoring
Sprites
Mega Evolution sprites
| | |
| --- | --- |
| Front | Back |
| Front (Shiny) | Back (Shiny) |
Battle animation sprites
Appearances
Anime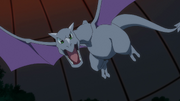 Aerodactyl made its anime debut in Attack of the Prehistoric Pokémon where it took Ash Ketchum away.
A large, fossilized Aerodactyl was resurrected with the power of Soul Dew by Annie and Oakley along with a large Kabutops in Pokémon Heroes, using Hyper Beam to attack Ash and Latias.
Trivia
Aerodactyl is the only

Rock

type Pokémon from Generation I that does not have a double weakness to the

Grass

type.
According to the Official Pokémon X and Y website, researchers believe Mega Aerodactyl may be the true form of Aerodactyl.
Aerodactyl and Vileplume had the same cry up until Generation VI.
Aerodactyl is the only Fossil Pokémon with a Mega Evolution.
A genus of pterosaurs was named Aerodactylus after this Pokémon.
Unlike real pterosaurs, Aerodactyl has bat-like wings and can completely bend its limbs.
It is the only fossil Pokémon that is restored from a sample of DNA in a different source rather than the actual fossil.
Origin
Aerodactyl is based on a pterosaur with some features of dragons. Its grayish-purple color, pointed tail, and draconic features may be in reference to Ridley, a recurring boss from the Metroid series who takes the form of a purple pterosaur-like dragon with a spear-like tail.
Etymology
Aerodactyl is a portmanteau of aero (meaning air) and Pterodactylus (a genus of pterosaurs popularly known as "pterodactyls").
Its Japanese name, Putera, comes from ptera (Greek for wing) and pterosaur.
Gallery
See also
Mega Pokémon
Generation I

·
·
·
·
·
·
·
·
·
·
·
·
·
Generation II
·
·
·
·
·
Generation III
·
·
·
·
·
·
·
·
·
·
·
·
·
·
·
·
·
·
Generation IV
·
·
·
·
Community content is available under
CC-BY-SA
unless otherwise noted.